Office going or work at home professionals, especially entry-level ones, have this question in their minds — how to build the perfect resume? 
Those 2-3 page documents stand for immense value. Not only they're the first thing employers will notice about you. Moreover, your CV will be the first thing an employer looks at when deciding whether or not to invite you in for an interview. So this document is crucial, and it may be your only chance to persuade the recruiter that you are qualified for the job.
Employers often scan resumes for only 30 seconds, so creating a compelling representation of your talents and experiences might help you catch their attention. To make the ideal work-at-home CV, follow these simple guidelines.
Eight Expert Tips to Build the Perfect Resume When you Work at Home
Please note that you may not (we suggest) shuffle the points mentioned in the checkbox below. For, those are placed the way they are following industry best practices and expert advice. The eight header checklist to make a good work at home resume are:
Add Contact Information

Give an Objective Summary

State Work Experience

Give Educational Qualifications

State Relevant Skills 

State your intangible Strengths

State your achievements and Awards

Edit, Edit, and Edit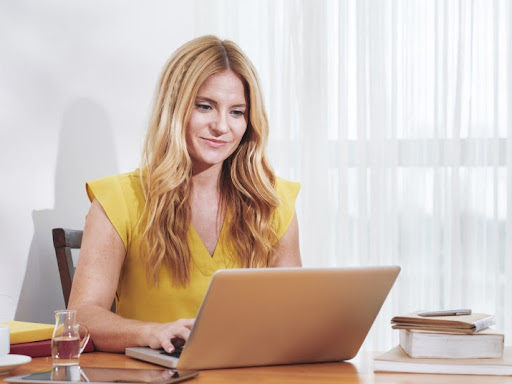 1. Add Contact Information
A resume holds relevant data which gives a general impression of a candidate to the employer; at first glance, it encloses the necessary details which summarise all the appropriate credentials in one draft. 
However, even with all the other components being present in the resume, it is still incomplete because that alone is not enough to get a response from the organization, so adding contact information is impertinent and provides access to communicate with the applicant directly. 
Contact information includes the contact number, fax number, address (official or personal), email id, social media handles, or any website. It is like sharing a business card with the associates, allowing people to reach out to you if they find a good fit in you for the applied profile. 
2. Give an Objective Summary
A summary is the first paragraph of a resume of about 4-5 lines that encloses a basic overview of a professional career. A good summary must be concise, appropriately worded, and readable. 
It must communicate the goals and targets and the general idea of a person's professional journey until application. It is the first thing the employer sees while shortlisting candidates; therefore, it must be a target-oriented statement. 
Researching about the organization, profile or industry might provide the relevant content to make a good summary. 
3. State Work Experience
Work experience is a crucial parameter of judging an applicant's performance. Therefore, good work experience in the relevant field of interest is suggested to find suitable jobs in that profile. 
Work experience entails any internships, remote or online jobs taken up by an individual. An individual's resume must have a segment containing the work experience in chronological order or terms or relevance depending on the need of the job. 
It must enclose data such as the duration of work, roles of responsibility, associate group strength, and additional credentials.
4. Give Educational Qualifications
The educational qualifications, along with the work experience, make the backbone of a resume. In addition, academic qualifications provide an insight to the hiring personnel about their experience and background. 
Educational qualification must contain fields such as the information of schools, college, university, diploma, and extra credit that a person may have along with the grades and awards (optional). 
Educational qualifications must be presented in chronological order and have a homogenous structure to ensure easy navigation through the required fields.
5. State Relevant Skills 
After laying down the foundation of your work experience and educational background comes the part of stating the relevant skills which add value to the equation and increase the chances of getting shortlisted. 
Skills can be displayed based on self-analysis or feedback and must convey gaining more visibility in the recruitment process. 
Caution must be taken in emphasizing points since overemphasis and laying out unnecessary information is considered unprofessional. Stating skills is very important; however, it must be done balanced to ensure selection.
6. State your Intangible Strengths
To provide a boost to a resume stating intangible strengths such as work ethic, work strategy, organizational skills, and others helps emphasize work areas in a significant field. 
Intangible strengths state a general brief of a person's profile and help evoke an interest in the employer, enhancing selection chances. 
7. State your Achievements and Awards
A detailed account of awards and achievements is equivalent to displaying badges of honor to the recruiter. Hence, a structured representation of authentic and significant awards and honors only upgrades the value of a resume. 
Therefore including it as a component in the resume has ensured positive outcomes. However, fabricated documents and certificates of proof may result in the immediate dispensation of a candidate. 
8. Edit, Edit, and Edit
It is essential to understand that a resume is a dynamic draft — it means that your resume at entry-level application wouldn't be the same as the resume used after 5-6 years of work experience.
It is essential to constantly update the resume after each experience and maintain a personal ledger to mark growth in a chosen field. 
Editing the resume is the most crucial step since it justifies the structure of the presentation and highlights the critical areas of focus to the recruiter. 
While editing, it is vital to leave behind old profiles or irrelevant experiences based upon the job requirement and practice regularly to make a good profile in the industry.
Additional Things to Keep in Mind for a Perfect Resume
Here are some tips which can be incorporated to make a good draft:
Use Strong action words:

Strong action words such as

developed

,

analyzed

,

enhanced

, etc., enclose a call to action well suited in a professional environment. It demonstrates a strong worker conviction and presents a formidable image in front of the recruiters. 
Include Keywords:

Include niche-specific keywords in your resume. These days many recruiters use automatic systems to parse through a dozen resumes. 
Often, these systems have algorithms to determine keywords in resumes based on the industry. When you add the right keywords, your resume has more chances of being shortlisted by this software. At the least, your resume will look more pro. 
Use Numbers whenever possible:

Numbers are always appealing.

Hence, adding numbers to showcase results or returns shows impressive performance and strikes the right cords.
Be honest:

It is important to remain honest while writing the resume since falsified information might immediately disqualify during scrutiny rounds. Not to mention embarrassment. 
Keep it concise:

A resume must be crisp and precise for enhanced readability. Make sure it isn't redundant. 
Avoid language errors:

grammar or sentence construction errors have absolutely no scope in the resume. However, these errors can be considerable put-offs to the employers, and you'd like to avoid that at any cost.  
Now that you know how to nail your resume when you work at home, it's time you already get working on updating if your resume is not upto the mark. 
If you are looking for high-quality work at home jobs for customer support, head over to HomeJobsHub. We connect eligible employees with befitting employers. Register here or head over to our website for more information.