The nature of the workforce is changing, and if you're a remote worker, chances are you still have a home office. However, you may feel like you're never in your office. This is because you live in a house full of family or friends. They constantly accompany you from room to room. You may even find the need to work in a coffee shop or library to get the peace you need. 
However, the nature of the work and the hours spent are constantly changing. Since the 20th century, when the term "middle class" was coined, dual-income families became a normal thing, and accordingly, the working hours of Americans have also started lengthening.
And though it's an excellent opportunity to work from wherever you want, and whenever you want, it also has its own set of problems. For instance, how do you make your home office smarter and a better place to be at?
That's why we've put together six home office hacks that you can use to make your office space smarter and better.
Set up a Productive Smart Home Office in these Six Easy Ways
As a remote worker, you need to think about many different things before getting to the smart home office step. Here are some tips to consider that can help you in the process:
1. Set up a dedicated workstation
Working in your bedroom or the living room, or even on the kitchen counter can impact your productivity and make you dull. The best part is working from home gives you the freedom to create a comfortable work environment that can keep you focused and energetic. ​
Having a dedicated workspace can help you be more productive and make your home office feel more like a real office. A sturdy and spacious table with a comfortable chair is all you need to set up your workstation.
2. Make a clean-desk policy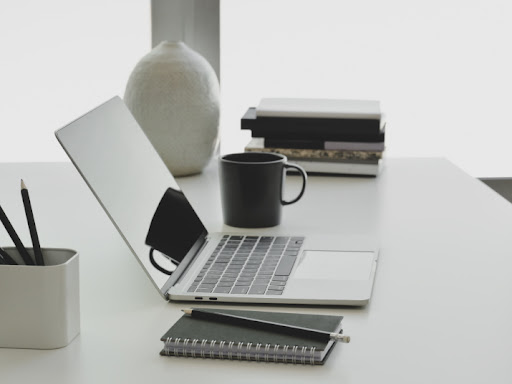 One of the biggest challenges for remote workers is staying on track and not getting distracted by their work environment. When you wear too many hats and have to juggle a huge workload, it's easy to get distracted, and a messy desk can be a huge distraction. As of 2018, despite advances in automation and technology, the workload has increased by nearly 7.8% since 1979.
So, start with decluttering your desk space. Place things into storage boxes. For instance, a holder for stationery items, a mouse pad, and a storage box for storing charging cables will consume less space and keep your desk organized. Remember, a clean-desk policy will help you work more efficiently.
3. Encourage faster brain breaks
You spend most of your time working, so it's essential to take regular breaks to refresh your brain and increase productivity. In fact, you should give priority to both your mental and physical health. According to data, employers lost $575 billion in revenue and 1.5 billion days of productivity due to sick workers in 2019 alone. Furthermore, these figures are expected to rise in 2020 and subsequent years. 
One way to avoid falling sick is to schedule breaks. 
For instance, set a timer when you get up and move around. Set a timer to go off every 30 minutes, and each time you hear it, do a 10-20 minute workout. 
Avoid screen interaction during the break and take a walk or do some stretches or other non-digital activity. These breaks have proven to boost your energy and keep you active throughout the day.
4. Use a whiteboard to organize your day
No matter whether you work from home or the office, multitasking is never easy. However, if you have a whiteboard, you can use it to map out your day and make sure you are staying on top of everything.
Here are some ways whiteboards can help get your work done and boost your productivity:
First, write down all of the tasks you need to do today. 

Then, organize them according to the order you need to do them.

Next, color-code your to-do's according to the priority of the task.

Finally, when you complete a task, cross it off the board. 
You can also apply the color code technique for your meetings. For example, if you have a marketing meeting, use red. If you have a client meeting, use green. This process will help you stay on top of your meetings and know exactly what you need to do for each one.
Nevertheless, apply the two-minute rule proposed by productivity consultant David Allen whenever possible to improve your productivity. The rule simply states that simple tasks that take less than two minutes should be completed right away.
5. Add elements of fun to your work
While working at home is a blessing for many, it can also be dull and monotonous. Many remote workers feel that their home offices are lonely places.
Besides that, with changing work demands, jobs are no longer always bound to a 9-5 time frame. As a matter of fact, one-third of Americans work for more than 45 hours a week and another 9.7 million are working for 60+ hours per week resulting in an average of just 6.5 hours of sleep at night.
So, it is crucial to add some fun elements to your work. There are many things you can do to make it more enjoyable. 
For example, if you are a graphic designer or a writer, you will feel more inspired in an environment full of colors with soothing background music. Colors and music are related to creativity and imagination, and these elements can encourage you to be more innovative during the project.
6. Create a multi-monitor setup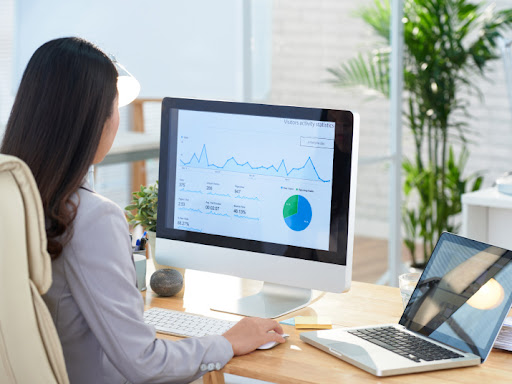 Multi-monitor setup is undoubtedly one of the best productivity boosters. You can have two monitors around your workstation, one at eye level and a second one below it. You can utilize the top monitor to work on client work, while the lower will help you check emails and handle personal accounts.
This technique increases your concentration levels and enables you to focus on crucial tasks. It can also come in handy if you work overtime, which is common in many companies. In Japan alone, nearly 25% of companies require employees to work 80 hours of overtime per month.
These home office hacks are perfect for a remote worker and will help you get the most out of your home office space. 
Climb Up the Ladder of Your Career with HomeJobsHub
If you are still stuck in the job-hunting process, HomeJobsHub is where you can find the best and most genuine work-from-home job opportunities.
At HomeJobsHub, we are dedicated to finding the most legitimate and reliable work-from-home job opportunities for our valued clients. We have a wide array of customer support positions available to match your skill sets and education levels. 
Our team members will be your guide every step of the way, helping you achieve your dreams of working from home. Contact us at 214-997-6228 for any queries or drop us your details, and we'll get you set up right away.