CareerBuilder statistics underline its 25-year legacy of empowering employers and job seekers. With innovative recruitment, talent management, and screening solutions, backed by Apollo Global Management (NYSE: APO), CareerBuilder operates globally, including the U.S., Canada, Europe, and Asia.
In fact, CareerBuilder covers 82% of the US workforce which makes it one of the largest job sites in the United States. Moreover, 137 out of 150 staffing agencies rely on CareerBuilder for their hiring requirements.
If you're interested in discovering more compelling CareerBuilder Statistics, continue reading this article.
CareerBuilder Key Stats 2023
CareerBuilder User Statistics 2023
CareerBuilder Key User Stats
Currently, CareerBuilder receives

175 million

annual visits from over 41M job seekers.

Based on the average of the last 3 months (March, April, and May), CareerBuilder was visited by

6.3 million

people.

In May 2023, CareerBuilder had

6.1 million

visitors.

In 2014, CareerBuilder's Talent Network had

45M

members.
Source: CareerBuilder
CareerBuilder Monthly Visitors
In May 2023, the number of CareerBuilder users reached 6.1 million. On average, it had 6.3 million visitors per month. In January 2011, 25.7M + users visited CareerBuilder.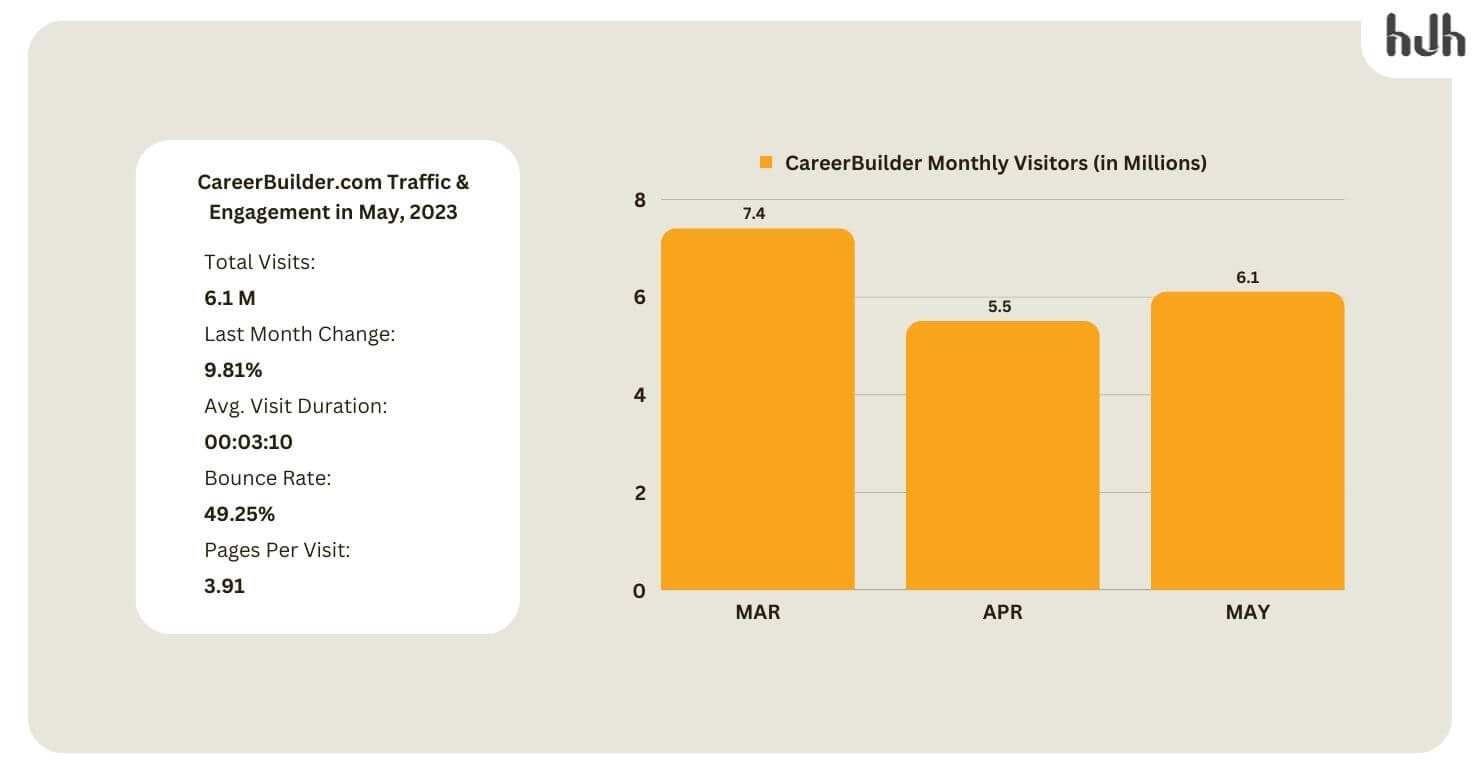 Source: Similarweb, CareerBuilder Press
How Many Users Visit CareerBuilder in a Year?
Currently, CareerBuilder attracts 41 million job seekers and 175 million visits per year. In 2010, CareerBuilder had over 22M unique visitors and it increased to 24M in 2013.
| | |
| --- | --- |
| Year | Unique Visitors (in Millions) |
| 2009 | 23 |
| 2010 | 22 |
| 2013 | 24 |
Source: CareerBuilder, CareerBuilder Press, CareerBuilder Press 2013, CareerBuilder Press 2009
How Many People Are Actively Using CareerBuilder?
As of May 2023, CareerBuilder has 90M active job seekers.
Source: CareerBuilder
CareerBuilder User Demographics
On careerbuilder.com, the gender distribution of the audience is 51.24% male and 48.76% female. The most significant segment of visitors falls within the age range of 25 to 34 years old.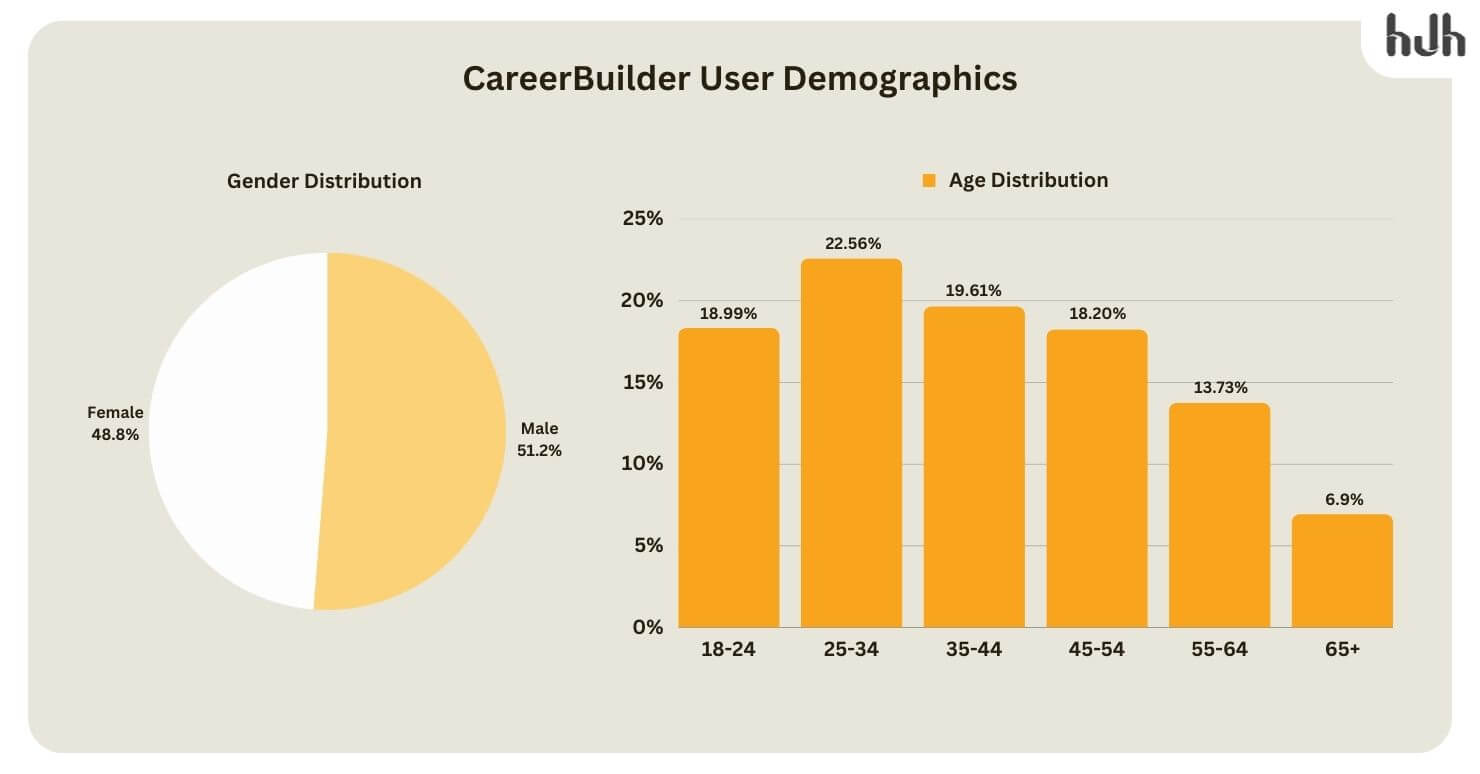 Source: Similarweb
CareerBuilder Revenue
In 2022, CareerBuilder achieved its highest revenue peak of $714 million. CareerBuilder annual revenue in 2016 was also $714 million.
In 2010, CareerBuilder's North American network generated a revenue of $556 million, reflecting a 3% increase compared to the previous year, 2009.
Source: Zippa, Wikipedia, CareerBuilder Press
What is CareerBuilder Market Cap?
CareerBuilder doesn't have any market cap as it is a privately owned company and is not listed on any stock exchange.
CareerBuilder Website Traffic 2023
CareerBuilder Marketing Channel Distribution
Direct traffic is the primary source of visitors to careerbuilder.com, accounting for 46.84% of desktop visits. Following behind is Organic Search, which contributes 22.02% of the website's traffic.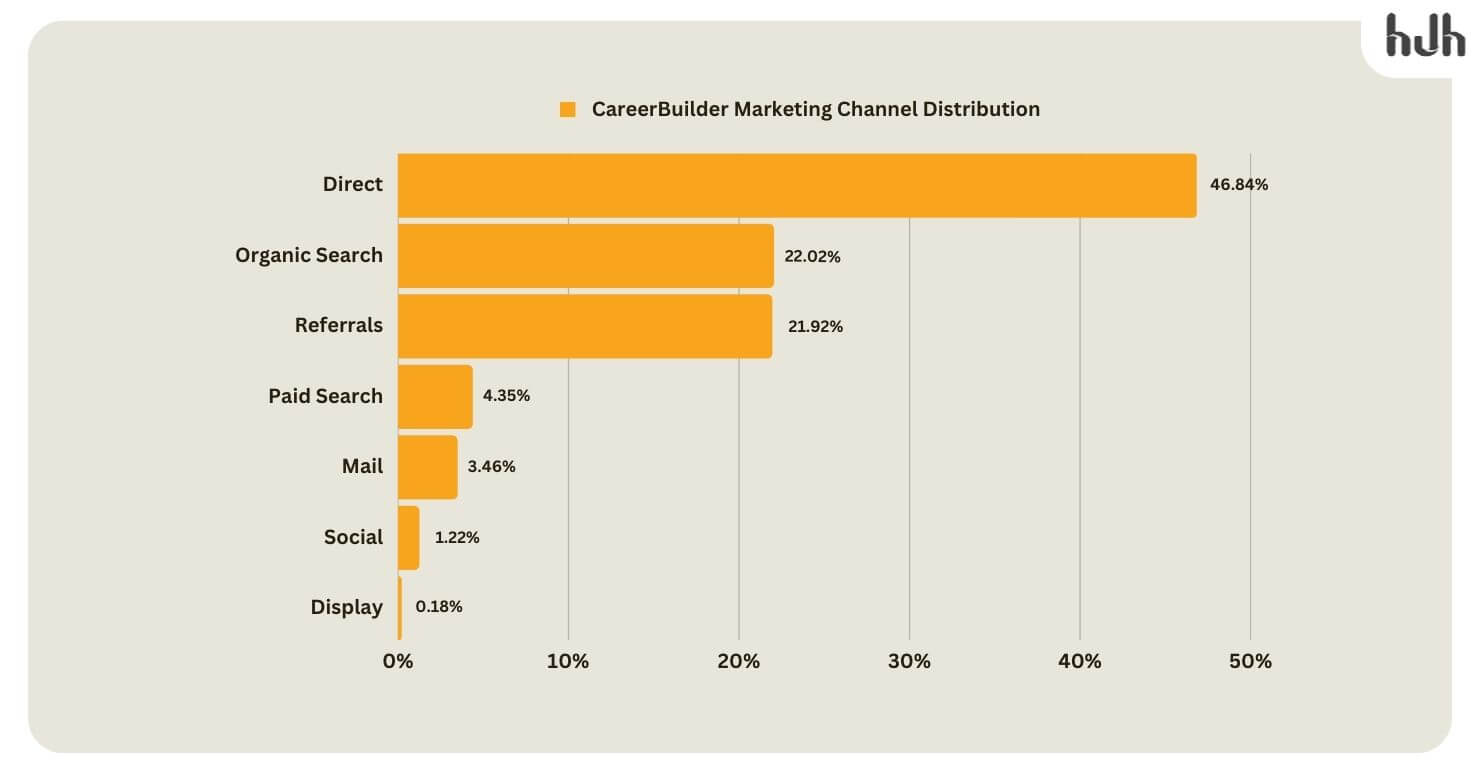 Source: Similarweb
CareerBuilder Social Media Traffic Distribution
With 44.86%, Linkedin is the leading social media platform driving the majority of social media traffic to careerbuilder.com, followed by Youtube and Facebook at 25.26% and 12.55% respectively.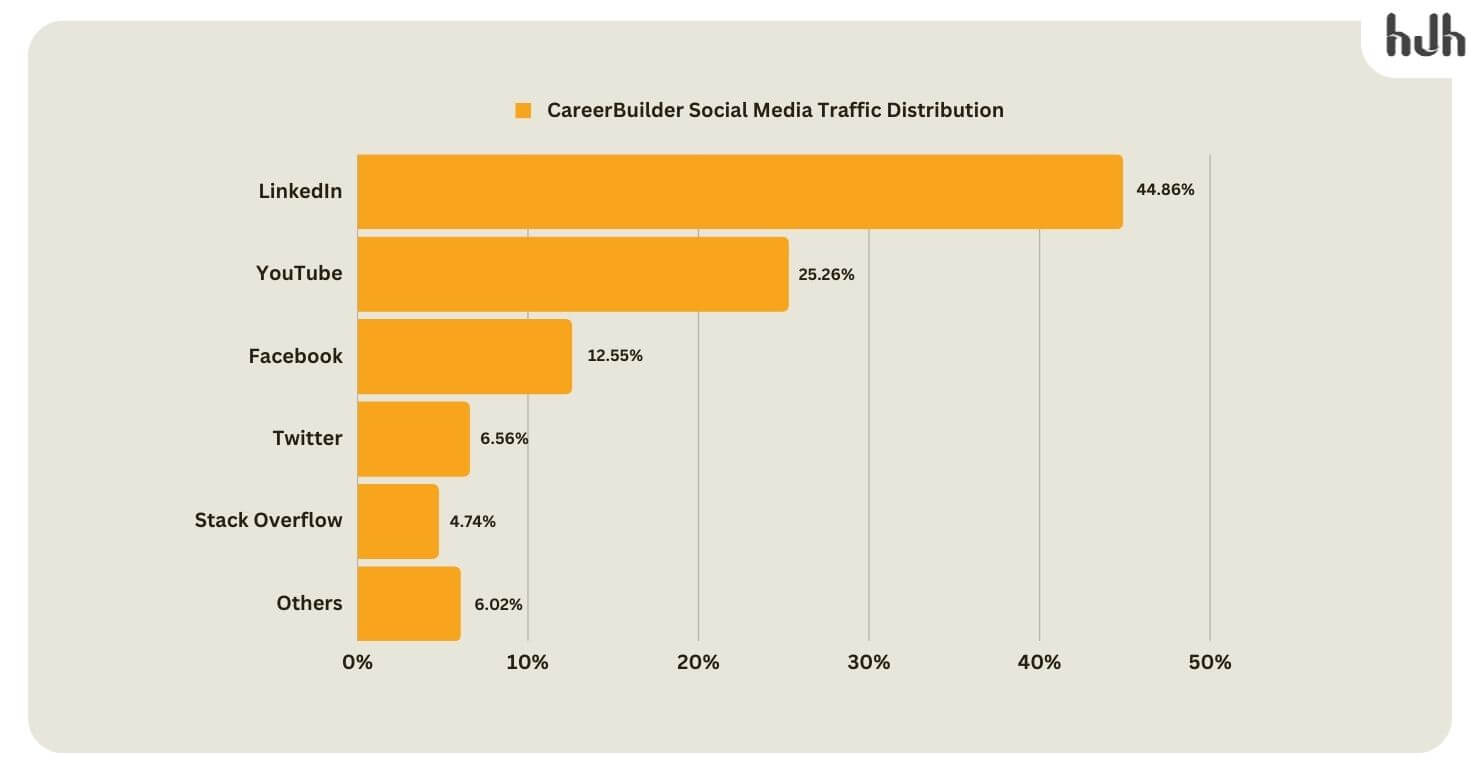 Source: Similarweb
How Many People Follow CareerBuilder?
Now, in total, 1.4M people follow CareerBuilder on their socials.
Source: CareerBuilder
CareerBuilder Traffic Distribution by Country
93.98% of CareerBuilder's traffic comes from the United States, while less than 1% of the traffic comes from other countries.
| | |
| --- | --- |
| Country | Traffic Percentage |
| US | 93.98% |
| Honduras | 0.80% |
| India | 0.57% |
| Canada | 0.44% |
| United Kingdom | 0.44% |
| Others | 3.78% |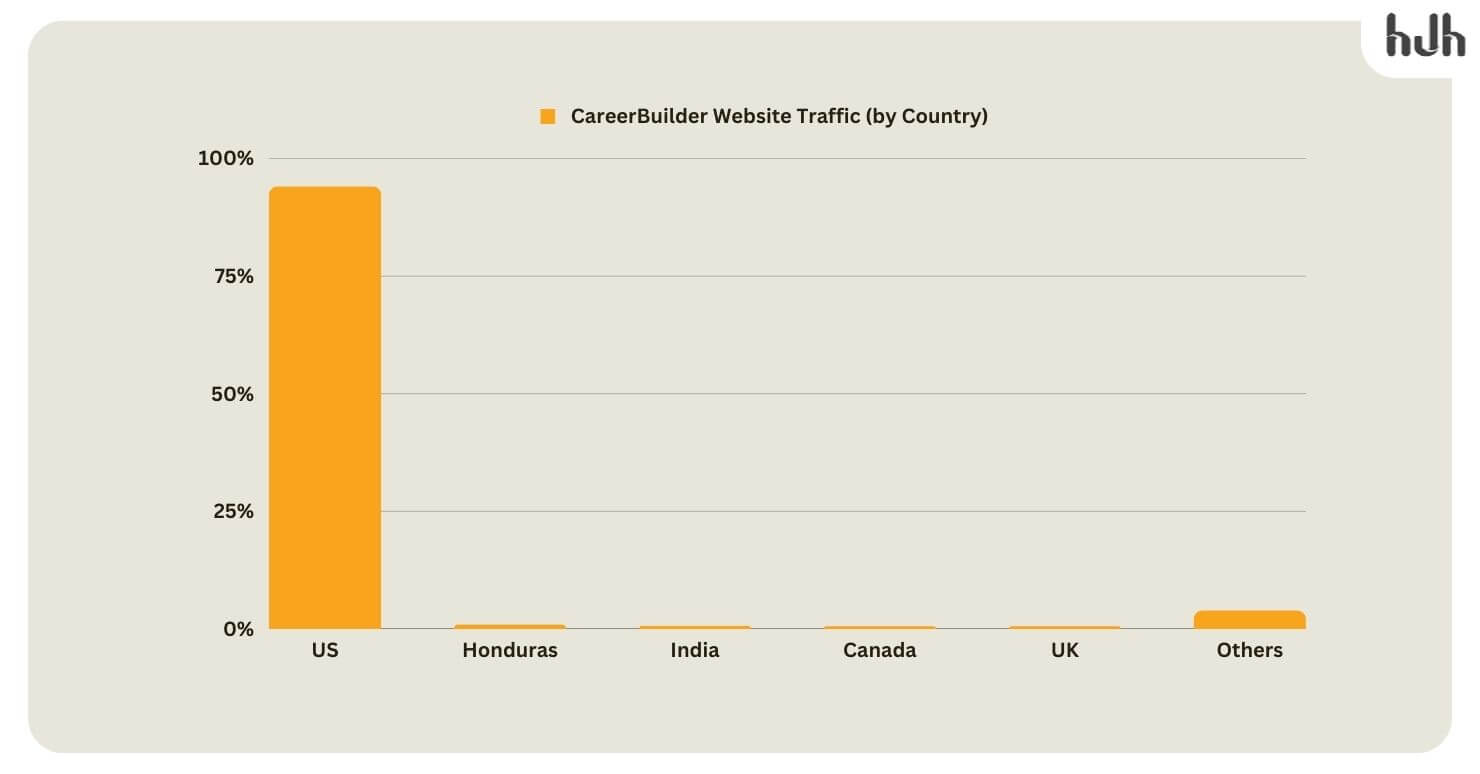 Source: Similarweb
CareerBuilder Analytics & Hiring Statistics 2023
Currently:
CareerBuilder has access to

3,200+

company career sites which was only 1,000 websites in the year 2000.

Its database includes

150M

candidate profiles.

It has at least

80 million

job applicants at a time.

Through their HCM platform, CareerBuilder served over

1 million

employers.

CareerBuilder total employer

s are over

300,000 in 2009

.

At least

3M

jobs are posted every month. In 2011, CareerBuilder had only 1M jobs.
| | |
| --- | --- |
| Year | Number of Jobs (in Million) |
| 2009 | 1.6 |
| 2011 | 1 |
| 2013 | 1 |
| 2023 | 3 |
Source: CareerBuilder, About CareerBuilder, CareerBuilder Pricing, CareerBuilder Press, CareerBuilder Press 2013, CareerBuilder Press 2009
CareerBuilder Resume Database
In 2011, the CareerBuilder resume database had 40M resumes which increased to 50M in 2013.
| | |
| --- | --- |
| Year | Number of Resumes (in Millions) |
| 2009 | 28M |
| 2011 | 40M |
| 2013 | 50M |
Source:CareerBuilder Press, CareerBuilder Press 2013, CareerBuilder Press 2009
What Kind of Data Does CareerBuilder Use For Analytics?
CareerBuilder has access to the following data which it aggregates to deliver better analytical data reports to help you in your recruitment process.
CareerBuilder has

21 billion

occupation-related data points. Plus,

128M

compensation data points from 1,000 industries.

150M

of US workforce records is acquired from 43,000 markets.

Over the last 5 years, it collected

2 billion

job postings from 19,500 sites.

Aggregated

55 million

college graduates' data from 10,000+ institutions.
In 2011, CareerBuilder had access to around 9,000 websites which increased to 10,000 websites in 2013.
Source: CareerBuilder, CareerBuilder Resources, CareerBuilder Press, CareerBuilder Press
CareerBuilder User Reviews
CareerBuilder is featured in 25,000+ new stories every year. 
Now, as per Trustpilot, the CareerBuilder website is worth ⭐2/5 ratings. Though on average it has a rating of ⭐4.2/5 over 20,747 user reviews.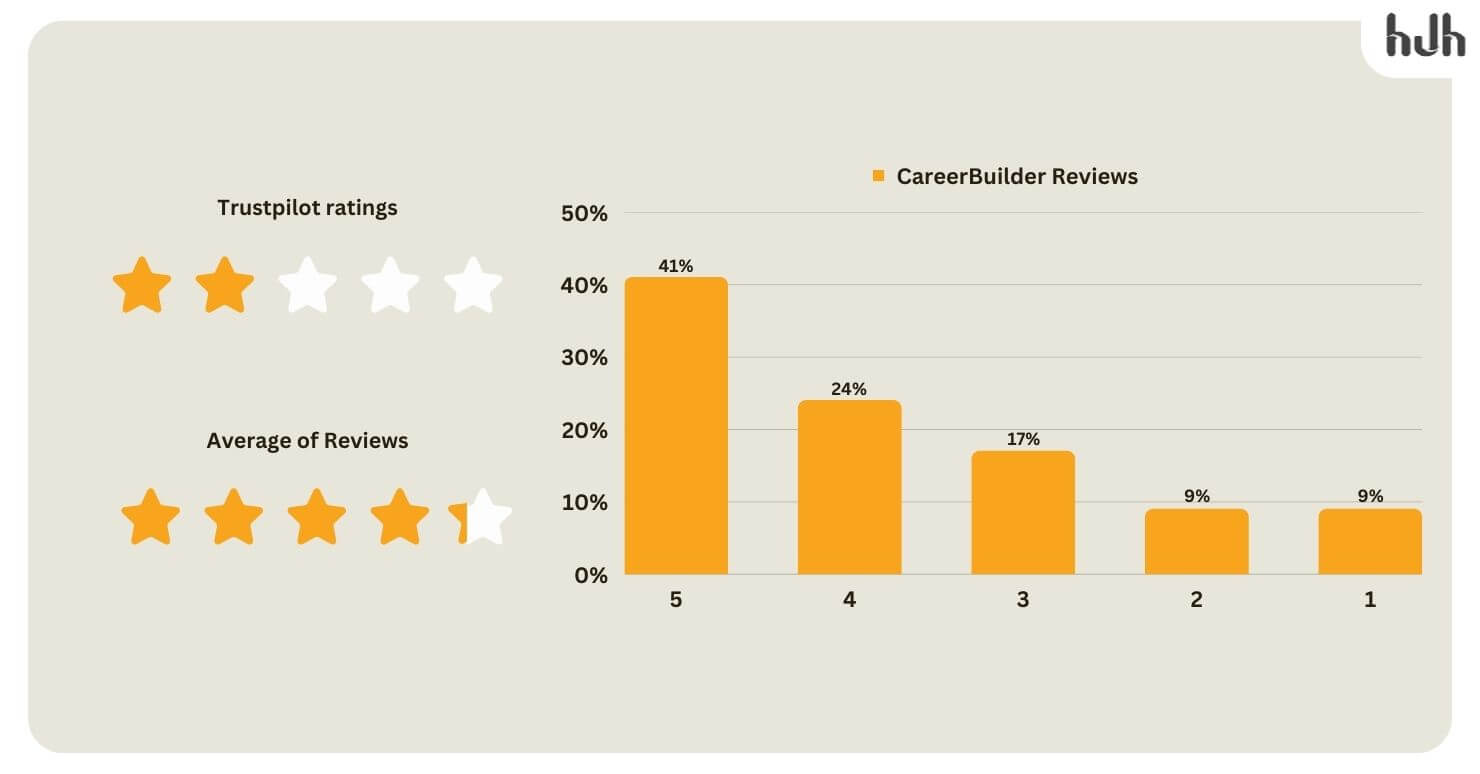 Source: CareerBuilder, Trustpilot
CareerBuilder Positive and Negative Review Ratio
If we categorize ⭐1-2 as negative reviews and ⭐3-5 as positive reviews, CareerBuilder has 82% of positive reviews and 18% of negative reviews.
CareerBuilder Company Information
Founded in 1995, CareerBuilder is a global company that offers both software products and services that specialize in helping employers find, hire, and manage talented employees. This includes recruiting, employment screening, and human capital management. 
Additionally, CareerBuilder is the largest AI-powered hiring solutions provider and serves the majority of Fortune 500 companies in 5 specialized markets. With innovative software and top-notch services, CareerBuilder caters to businesses of all sizes, including both major corporations and smaller enterprises.
As of 2015, CareerBuilder has a presence in 60 markets around the world. Not only that, it offers Talent Network services in 29 different languages.
Source: LinkedIn, CareerBuilder, CareerBuilder Press
Who Owns CareerBuilder?
CareerBuilder ownership was transferred to Apollo Global Management (including its affiliated Funds) and Ontario Teachers in 2017. Though, its previous owners, TEGNA, Tribune, and McClatchy hold minor interests.
Source: CareerBuilder Press
How Many Employees Does CareerBuilder Have?
The number of CareerBuilder employees is 3,000 which was 1,700 in 2010. And, CareerBuilder's average salary in the USA and in other countries is $63,278 per year.
Is CareerBuilder a Good Place to Work?
CareerBuilder is recognized as one of the Best Places to Work by Chicago Tribune, ComputerWorld, and Glassdoor.
Source: CareerBuilder
How Much Does CareerBuilder Cost?
CareerBuilder pricing plans for small businesses are publicly available. But for enterprise products and pricing information, you need to contact their team and book a demo. Now, CareerBuilder pricing plans are as follows:
| | | | |
| --- | --- | --- | --- |
| Pricing Plan | Charges | Billing Cycle | 5-day Free Trial |
| Pay As You Go | $425 | Once | – |
| Lite | $349 | Monthly | Yes |
| Standard | $449 | Monthly | Yes |
| Pro | $749 | Monthly | Yes |
Let's look at the limitations of each plan.
Pay As You Go:

Only 1 job posting is available for 12 months. You can purchase more job postings if you need them. It allows 10 resume actions/ day, employer branding is limited to 10 postings/day and you may send job boost emails to 35 candidates only.

Lite:

All the limitations are the same as

Pay As You Go

plan, except that Lite supports 1 job posting/month.

Standard:

Includes 3 job postings/month, 30 resume actions/day, employer branding to 30 postings/day, and you can send job boost emails to 100 candidates.

Pro:

Supports employee branding to 40 postings/day, 50 resume actions/day, and 5 job postings/month. You can deliver job boost emails to a maximum of 150 candidates.
Source: CareerBuilder Pricing
CareerBuilder Competitors
CareerBuilder vs Monster
Monster is a job search platform that allows job seekers to explore multiple opportunities. Additionally, it offers products such as resume builder and career advice. Simply put, CareerBuilder combines job posting with advanced hiring solutions for employers.
Both Monster and CareerBuilder have decades of experience as Monster was founded in 1994 and CareerBuilder in 1995.
Monster Vs CareerBuilder Stats
In May 2023, Monster had

7.2M

visitors and CareerBuilder had 6.1M visitors.

48.11%

of females and

51.89%

of males use Monster.com, while 48.76% of females and 51.24% of males use CareerBuilder.com.

CareerBuilder consists of 3,000 employees and Monster comprises

5,296

employees.
Source: Similarweb, Statista
CareerBuilder vs ZipRecruiter
CareerBuilder and ZipRecruiter are both prominent job search platforms, but they offer different features and approaches. 
CareerBuilder provides a comprehensive suite of talent acquisition solutions, including job postings and applicant tracking systems. ZipRecruiter focuses on simplifying the job search process with its streamlined interface and automated job-matching technology. 
ZipRecruiter Vs CareerBuilder Stats
ZipRecruiter was founded in

2010

and CareerBuilder in 1995.

In 2022, CareerBuilder reached its peak revenue of $714 million and ZipRecruiter achieved a peak revenue of

$239.9 million

.

During May 2023, ZipRecruiter received

38.7M

user visits, while CareerBuilder had 6.1M visitors.
Source: HomeJobsHub, Similarweb
CareerBuilder Vs Indeed
CareerBuilder and Indeed are two popular recruitment platforms with their own unique strengths.
CareerBuilder offers a wide range of job listings and additional recruitment services for employers, while Indeed boasts a vast database of job opportunities from various sources. Both platforms provide user-friendly interfaces and powerful search functionalities to help job seekers find suitable positions.
Indeed Vs CareerBuilder Stats
Indeed was launched in

2004

and CareerBuilder was founded in 1995.

Indeed has over

14,600

employees whereas CareerBuilder has 3,000 employees.

In May 2023,

632.6M

users visited Indeed.com while 6.3M users visited CareerBuilder's website.
Source: Similarweb, HomeJobsHub
Conclusion
In conclusion, CareerBuilder continues to be a prominent player in the job search industry, with impressive revenue and usage statistics. With a reported peak revenue of $714.0 million in 2022, CareerBuilder has established itself as a leading platform for job seekers and employers alike. 
The platform attracts a significant user base, with 41 million yearly visitors and 3M job postings across various industries. As CareerBuilder maintains its position as a trusted and reliable resource for job search and recruitment, it remains an influential force in shaping the employment landscape.