"Indeed statistics" reveal that the platform, launched in 2004, has evolved into the world's foremost job site, amassing over 300 million unique visitors monthly. This success is attributed to Indeed's role as a job search platform and online employment marketplace, streamlining the connection between job seekers and employers.
Indeed operates in over 60 countries and delivers its services in 28 different languages, covering 94% of global GDP.
Indeed's primary mission is to assist individuals in finding employment, and it accomplishes this through the efforts of its dedicated team of more than 14,600 global employees. 
If you want to learn more important Indeed revenue and usage statistics, keep on reading this article.
Table of Contents:
Indeed User Statistics 2023
Indeed Key User Stats
Nearly

93%

of online job seekers in the US use Indeed.

Indeed gets

over 330M

unique users every month. 

As of April 2023, Indeed's unique visitors amount to

564.3M

.
Source: Indeed
Indeed Monthly Visitors 2023
In April 2023, Indeed had 564.3 million unique visitors. On average, in the last 3 months, Indeed has had 575.8M unique visitors.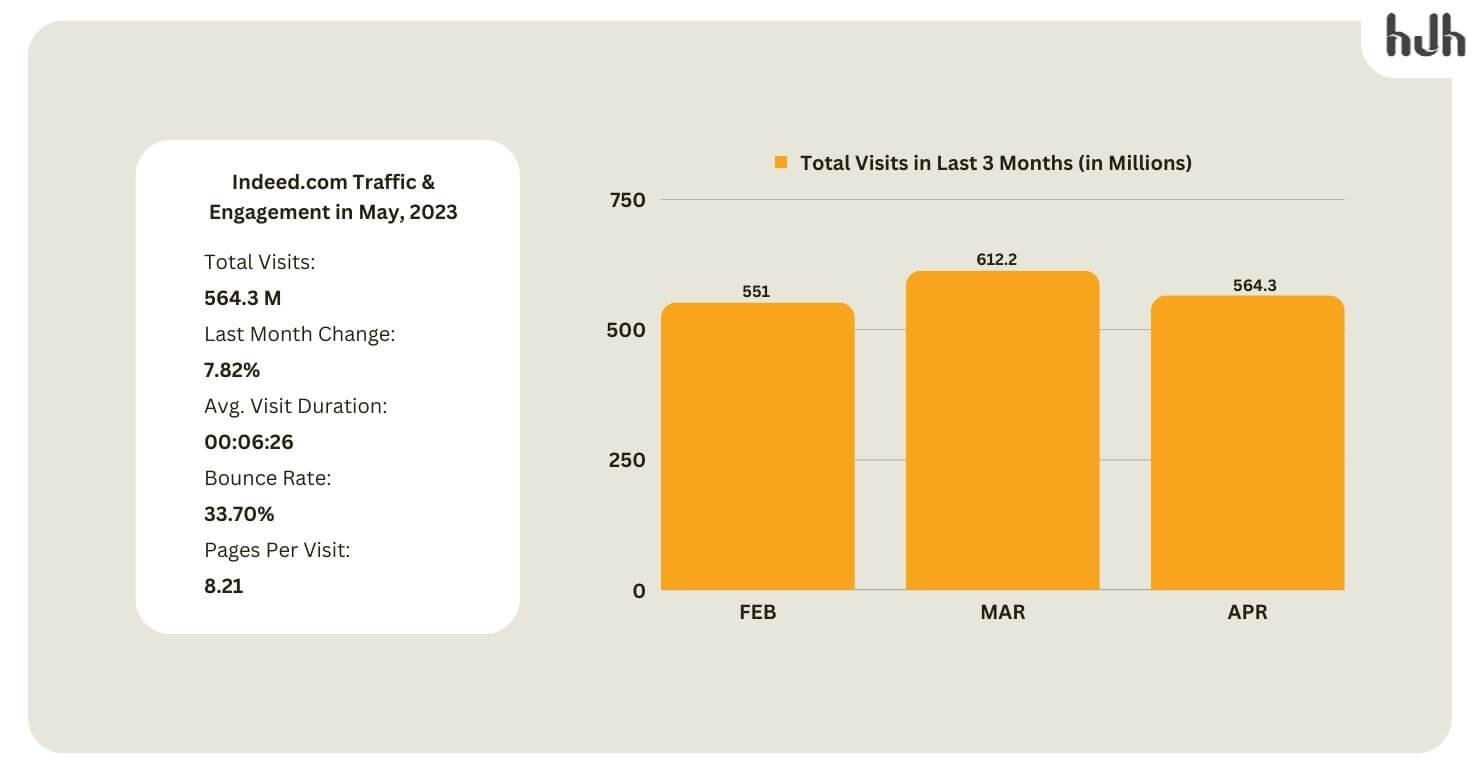 Source: Similarweb
Indeed Yearly Visitors
In 2022, Indeed monthly unique users amount to over 330 million. And, 3 million employers visit Indeed to hire each year. This marks a significant increase from 6,000 employers in 2018.
| | |
| --- | --- |
| Year | Unique Visitors Per Month (in Million) |
| 2017 | 200+ |
| 2018 | 200+ |
| 2019 | 250+ |
| 2020 | 200+ |
| 2021 | 250+ |
| 2022 | 330+ |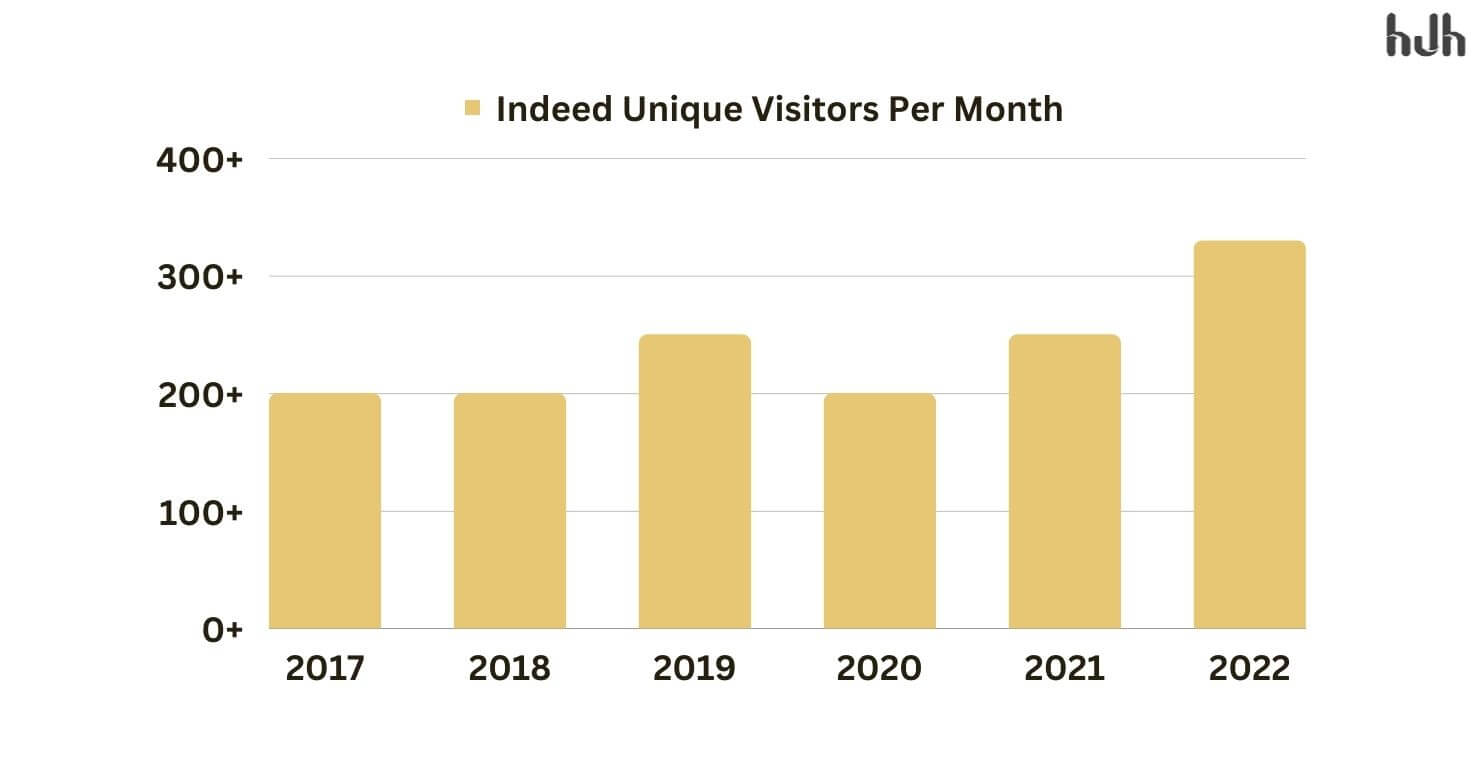 Source: Recruit Holdings Annual Report 2018 & 2019, FY 2020 Report, FY 2021 Report, FY 2022 Report
Indeed User Demographics 2023
Indeed.com has 51.29% male users and 48.71% female users. Plus, it is popular among people aged 25-34.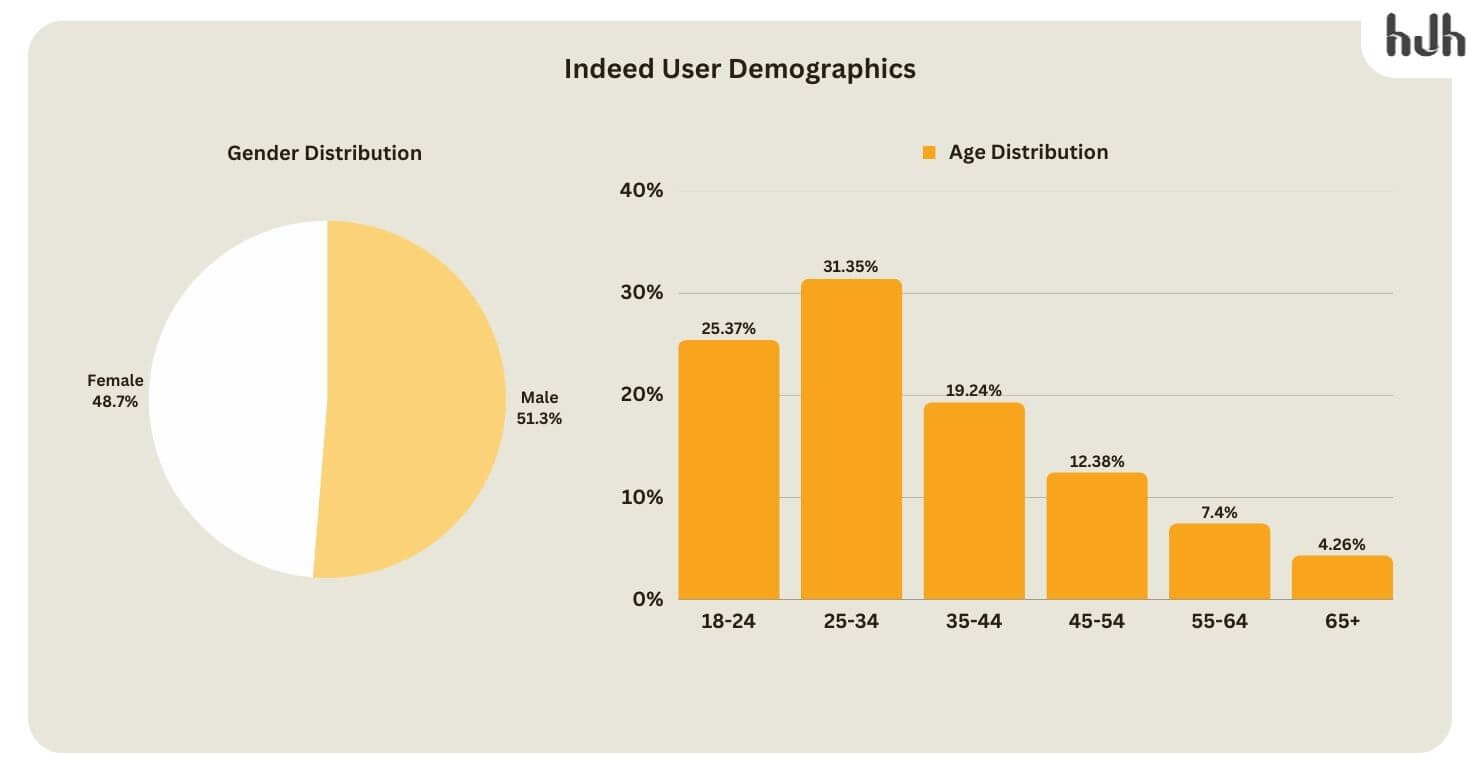 Source: Similarweb
Indeed Revenue
In 2021, Indeed annual revenue was $5,735 million, marking a significant 64.3% increase from its 2020 revenue of $2,942 million.
| | |
| --- | --- |
| Revenue | Year (in Millions) |
| 2015 | $777 |
| 2016 | $1,229 |
| 2017 | $1,976 |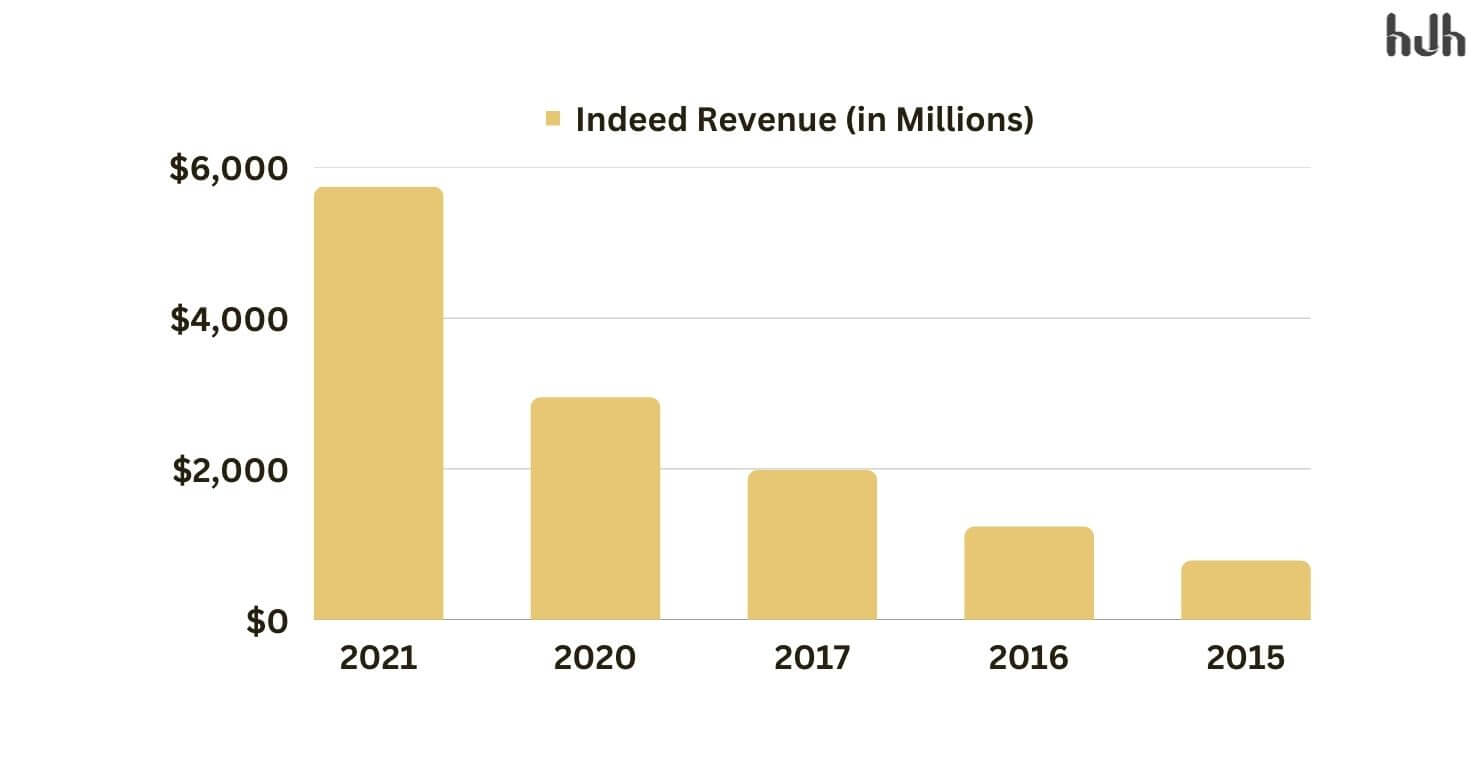 Note that Indeed achieved a remarkable growth rate of 62% in net sales in 2017.
Source: Recruit Holdings FY 2020 Report, FY 2021 Report, Annual Report 2017, 2018 & 2019
Indeed's Impact on Global GDP
Indeed covers 94% of the global GDP with its wide reach and global presence, making it a significant player in the job market worldwide.
Source: Indeed
Indeed Website Traffic
Indeed Marketing Channel Distribution
The main sources of traffic for indeed.com are direct traffic (46.01%) and organic search (41.09%).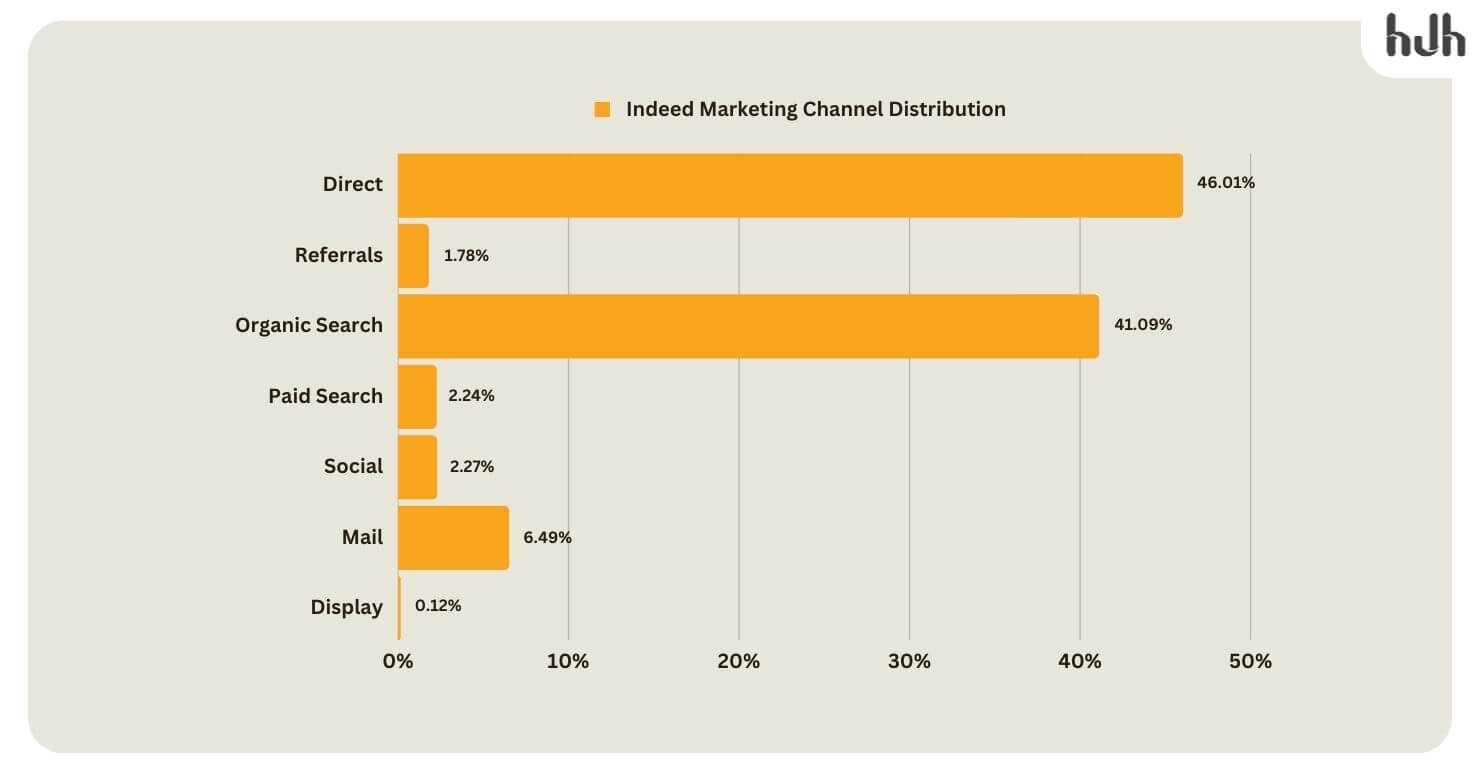 Source: Similarweb
Indeed Social Media Traffic Distribution
In terms of social media, the primary source of traffic for indeed.com is YouTube, representing 46.22%. It is followed by LinkedIn with 18.27% and Facebook with 14.31%.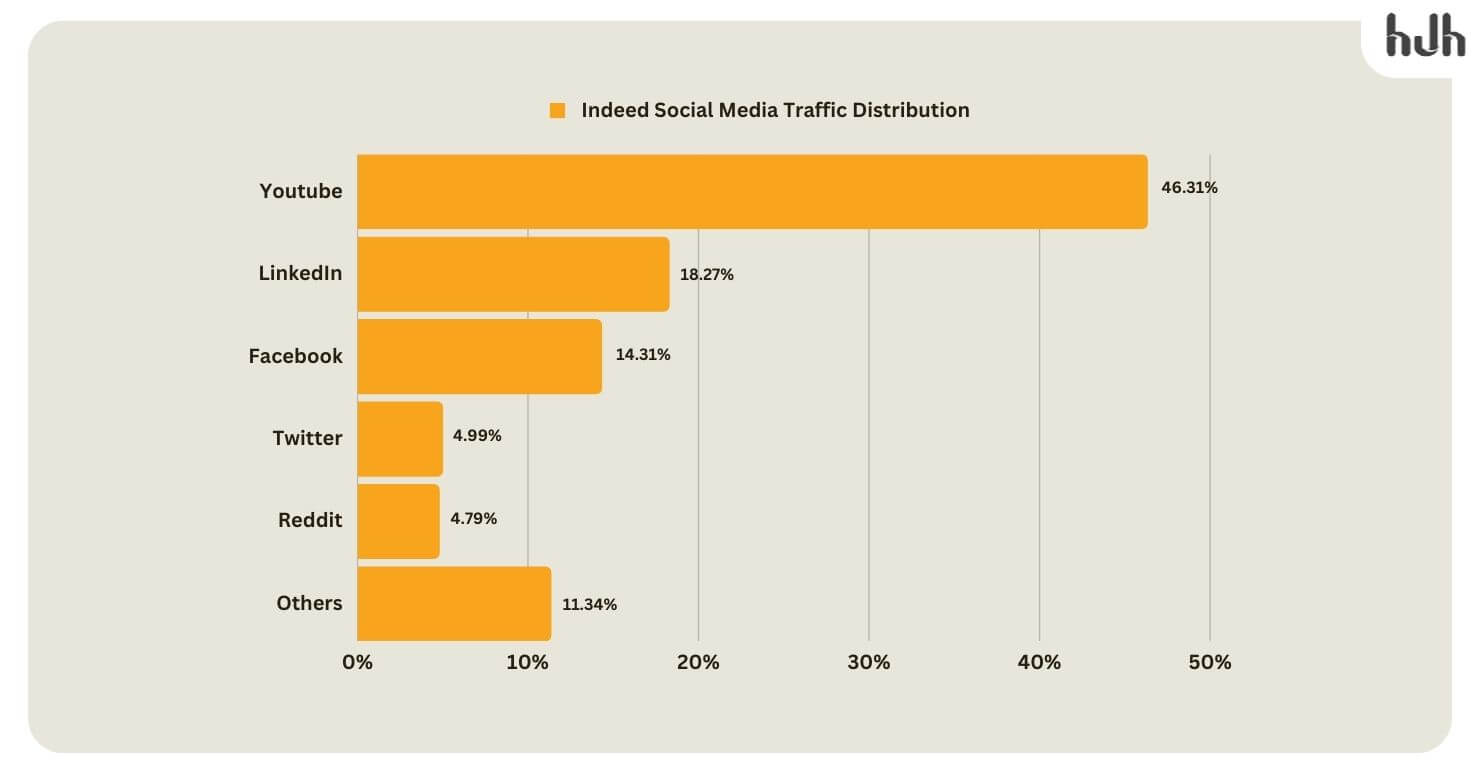 Source: Similarweb
Which Country Uses Indeed the Most?
The majority of traffic to Indeed.com comes from the USA (44.57%), with Canada (8.90%) and the UK (8.43%) ranking as subsequent countries.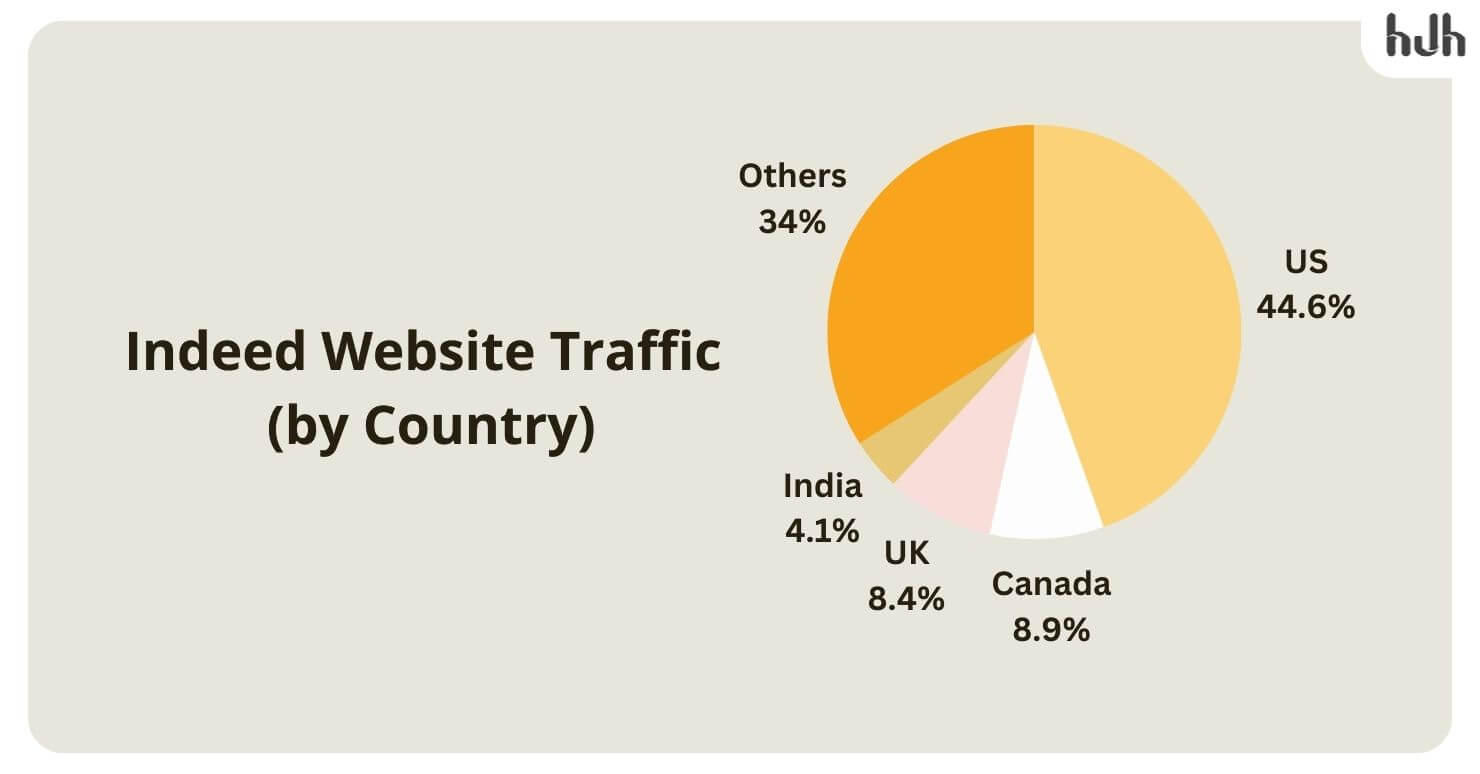 Source: Similarweb
Indeed Analytics & Hiring Statistics
In 2022, Indeed hires an average of

23 job seekers

per minute, representing an increase from 20 job seekers in 2021.

As of 31 March 2022, it takes approximately

15 weeks

for job seekers to get a job through Indeed.

In 2023, the number of job openings on Indeed decreased by

3.5%

year over year and sponsored jobs volume is down by

33%

.

20 million jobs

are published on Indeed via employment ads in 2018, while in 2017 overall Indeed job listings were 20M.
Source: Indeed, Recruit Holdings Annual Report 2017 & 2019, FY 2021 Report, 2023 Report, CNN
How Many Resumes Does Indeed Database Have?
Now, Indeed's database has 245M resumes which is a significant increase from 150 million resumes in 2019, 120M in 2018, and 100M in 2017.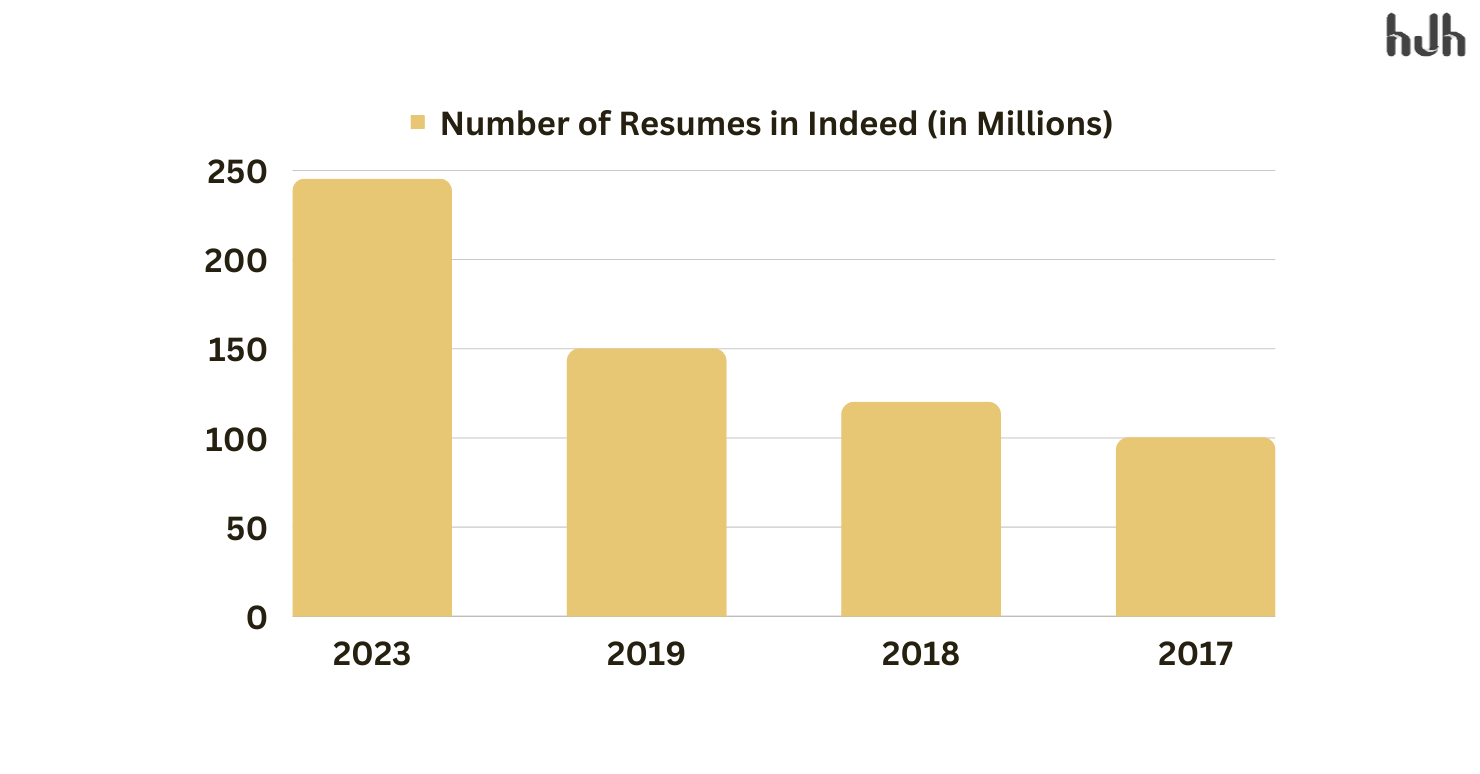 Source: Indeed, Recruit Holdings Annual Report 2017 & 2019, FY 2021 Report
What Are Indeed Assessments?
Indeed Assessments automate the screening process by enabling employers to quickly find the right candidates with the skills they need. It was launched in 2018.
On average, employers experience a 16% reduction in time to hire when using Indeed Assessments.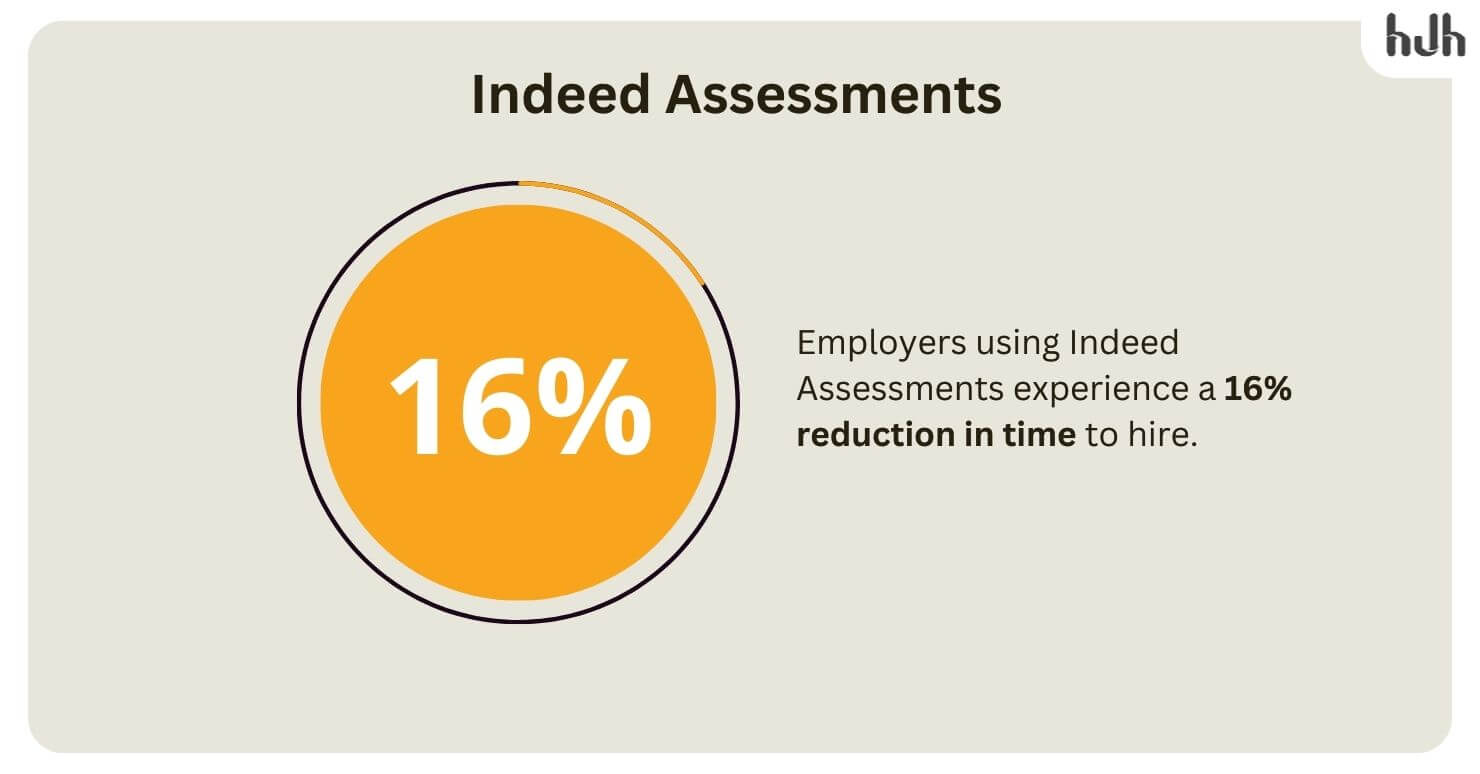 Source: Recruit Holdings FY2021 Report
What Are Virtual Interviews Indeed?
Indeed introduced virtual interviews during COVID-19, i.e., in 2020. Now, you can discover jobs on Indeed that let you schedule an interview once you meet specific requirements. 
In 2021, Indeed ran the Virtual Hiring Tour, through which over 20,000 job seekers in the United States were hired. Overall, 2 million virtual interviews were conducted directly on Indeed between job seekers and employers.
Source: Indeed, Recruit Holdings FY 2021 Report
What Are Other Products of Indeed?
Indeed Hire
Indeed Hire is a recruiting service that helps employers find and hire qualified candidates for a fixed fee per hire. On the other hand, Indeed is a job search engine that allows employers to post jobs for free or sponsor them for a pay-per-click fee.
Indeed Hire was launched in 2016.
Indeed Hiring Platform
Introduced in 2021, Indeed Hiring Platform enables employers to directly manage the hiring process on Indeed, from job posting to conducting interviews, without the need for additional software. Additionally, job seekers who meet the employers' specific job criteria can automatically advance to the interview stage.
Indeed User Reviews
As of Q1 2023, Indeed has received 850M+ reviews and ratings from its users across the world. Now, by referring to the GetApp website, you can see that Indeed has ⭐4.2/5 ratings from 7.1K reviews.

Source: Recruit Holdings, GetApp
Indeed Positive and Negative Review Ratio
If we consider 3-5⭐ reviews as positive and 1-2⭐ reviews as negative, Indeed's positive reviews make up 90.6% of the total, while negative reviews make up only 9.4%.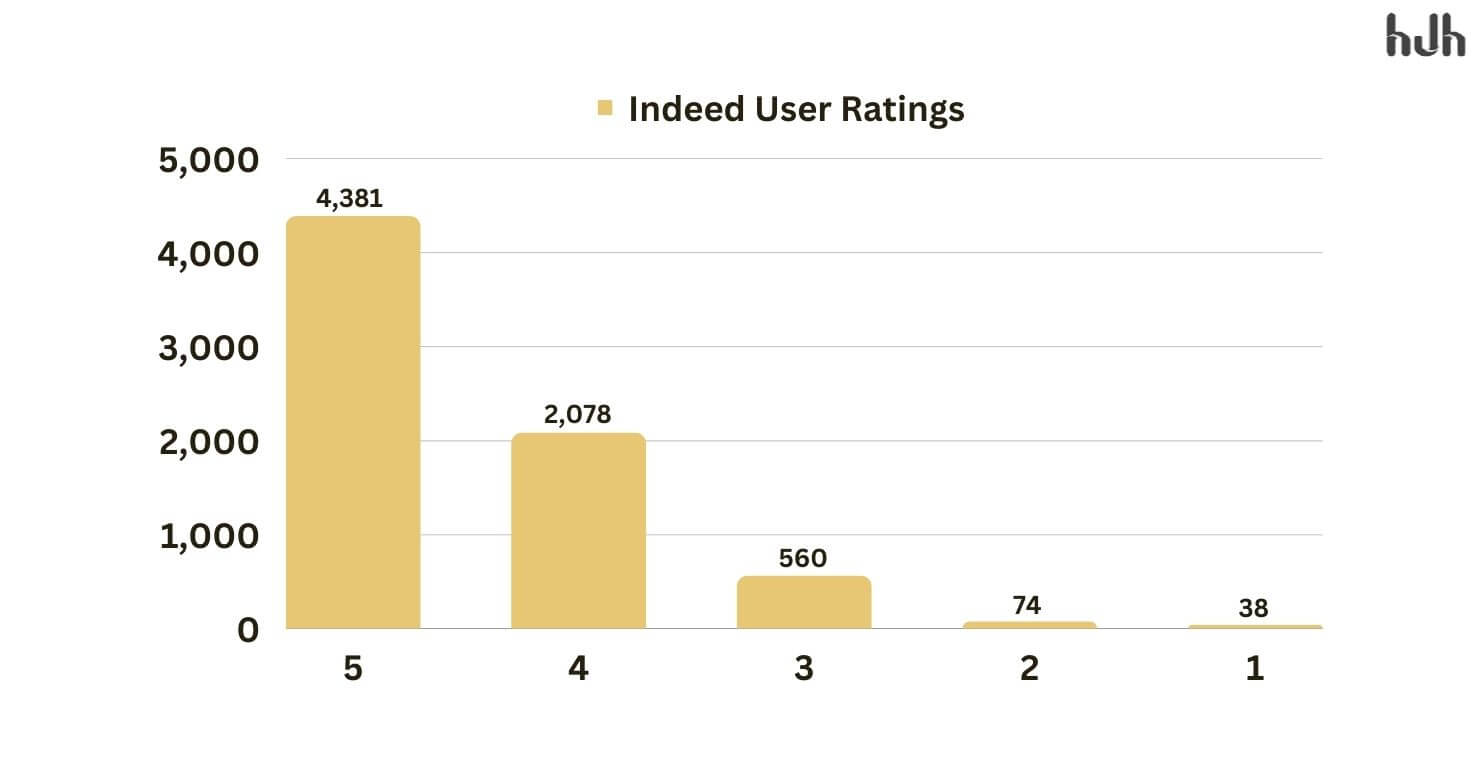 Indeed Company Information
Indeed is the #1 global job search platform where you get access to millions of jobs from thousands of companies. Additionally, you can use it to research the companies as well.
Source: Indeed
When Was Indeed Founded?
It's been nearly 19 years since Indeed was launched, i.e. in 2004.
Source: Indeed
How Many Employees Does Indeed Have?
Now, Indeed has 14,600+ employees around the world which used to be 9,500 in 2019.
Source: Indeed
Who Owns Indeed?
Currently, Recruit Holdings operates Indeed. It is a publicly traded Japanese HR services company that bought Indeed in 2012 for $1 billion.
Source: Inc
How Much Does Indeed Cost?
Indeed pricing has different options depending on your hiring needs and budget.
Free job posting:

You can post the jobs for free on Indeed and they will appear in general search results. You can accept job applications from mobiles as well.

Sponsored job postings: Sponsor your job postings to attract more candidates and get premium placement. Indeed will reach out to candidates via desktop, mobile, and job alerts. Before 2022, Indeed charged for pay-per-click (PPC) on job postings and now, it has changed to pay-per-application (PPA) where you are only billed for quality applications.
Campaign:

Design a hiring campaign with Indeed and they will assist you in choosing the right budget and which jobs to sponsor.
| | |
| --- | --- |
| Plan | Pricing |
| Free job postings | $0 |
| Sponsored job postings | PPA depends on the local job market conditions and the information you provide in your job posts, like the job title and location.  |
| Campaign | Contact Indeed |
You can also purchase other products and services from Indeed, such as –
Featured Employer 

Indeed Resume

Company Pages
These products have different pricing models based on subscription, pay-per-contact, or free options.
Source: Indeed, Indeed Blog
Why Did Indeed Switch its Pricing Model?
When hiring employers used a Pay Per Application pricing model instead of a Pay Per Click model, job seekers experienced a 17% shorter job search duration when applying to sponsored job postings.
Source: Recruit Holdings 2023 Report
Alternatives to Indeed
Indeed Vs Monster
Indeed and Monster are both online recruitment platforms that connect employers with potential candidates. Though Monster was founded in 1994 and Indeed in 2004, Indeed is way more popular and is available in more countries than Monster.
Currently, Monster is rebranded as Foundit in Southeast Asia, India, and Middle Eastern countries.
Monster Vs Indeed Stats
In April 2023, Monster had

6.9M visits

while Indeed had 564.3 M.

Indeed operates in 60+ countries and Monster in

50+

countries.

Monster.com has

47.34% male

users and

52.66% female

users, whereas Indeed has 51.29% male users and 48.71% female users.
Source: LinkedIn, Similarweb, Monster, Mint
Indeed Vs Glassdoor
Glassdoor goes beyond job listings and provides a platform for employees and former employees to share company reviews, salaries, and interview experiences. Anyone can anonymously share their reviews and ratings so other job seekers can make informed decisions.
Furthermore, Glassdoor was founded in 2007, and in 2018, it was acquired by Recruit Holdings, which also owns Indeed. However, it is important to note that Recruit Holdings operates Glassdoor and Indeed as separate entities.
Glassdoor Vs Indeed Stats
Glassdoor has over

55 million

unique visitors and Indeed has 300M+ visits.

Glassdoor holds

150M+ reviews

. On the other hand, Indeed contains more than 850 million reviews.

When Indeed is present in 60 countries, Glassdoor is only available in

20 countries

.
Source: Glassdoor
Recommended: ZipRecruiter User & Revenue Statistics 
Conclusion
Indeed continues to be the number one job search and recruitment platform globally, attracting an impressive 330 million unique visitors per month. Even though Indeed revenue 2022 or previous year details are not readily available, the growth in user statistics clearly reflects its increasing popularity. When compared to alternative platforms, it is evident that Indeed stands out as a dominant force in the job market industry.
We hope this article, Indeed revenue and usage statistics has provided valuable insights into its position in the recruitment market. Feel free to ask any queries you may have. Additionally, you can share any missing information or the latest updates that you would like for us to add.