The data entry job may not seem like rocket science but it is not a walk in the park either.
Data entry specialists need to research, collect information, record data and update enterprise databases.
Thus, the recruiter asks the kind of questions that relay your hard skills like typing speed, and basic data structure knowledge, and soft skills such as communication, interpersonal skills, etc. 
Now, preparing for the data entry interview questions will help to build your confidence and ace the interview.
So, here are the top 10 data entry job interview questions and answers for freshers and experienced candidates. Let's get started.
Also, read 12 Tips on How to Get Better At Job Interviews
Top 10 Data Entry Jobs Interview Questions and Answers With Examples
1) Do you have data entry experience?
Usually, HRs often ask about your previous job role and responsibilities to get an idea of your knowledge and skills that can be of service to the company if you get the job.
It is always beneficial to talk about past work experience during an interview because it gives you an opportunity to speak about your achievements.
In case your work experience is not related to the data entry job or you are a fresher, then focus on the possessed skills and techniques that can be useful in fulfilling your responsibilities.
Example Answer: 
Yes, I have previously worked with an IT services company for 3 years in Manhattan. I gained practical experience in using digital spreadsheets and data record systems.
In case you are a fresher, you can answer in this way.
No, I do not have any prior experience working in this field. But, we used MS Excel spreadsheets and SQL database systems while working on the XYZ high school project. I did a course and gained certification as a Microsoft Office Professional from Coursera.
2) How would you rate your typing skills?
Fast and accurate typing skills are necessary for a data entry professional.  So, make sure to take a typing speed and accuracy test and be ready to discuss it with your hiring manager.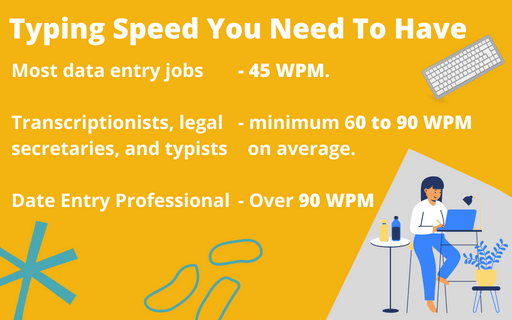 Example Answer:
I have a typing speed of 60 words per minute with 98% accuracy.
3) What do you think are the most important skills you need for data entry jobs?
The best way to answer this question is to talk about the skills and abilities mentioned in the company's job post.
Do not just list them as it is in the job description. Instead, tell HR –
Reasons why you think a specific skill is important, and 

The way a particular skill can assist you while working on your tasks.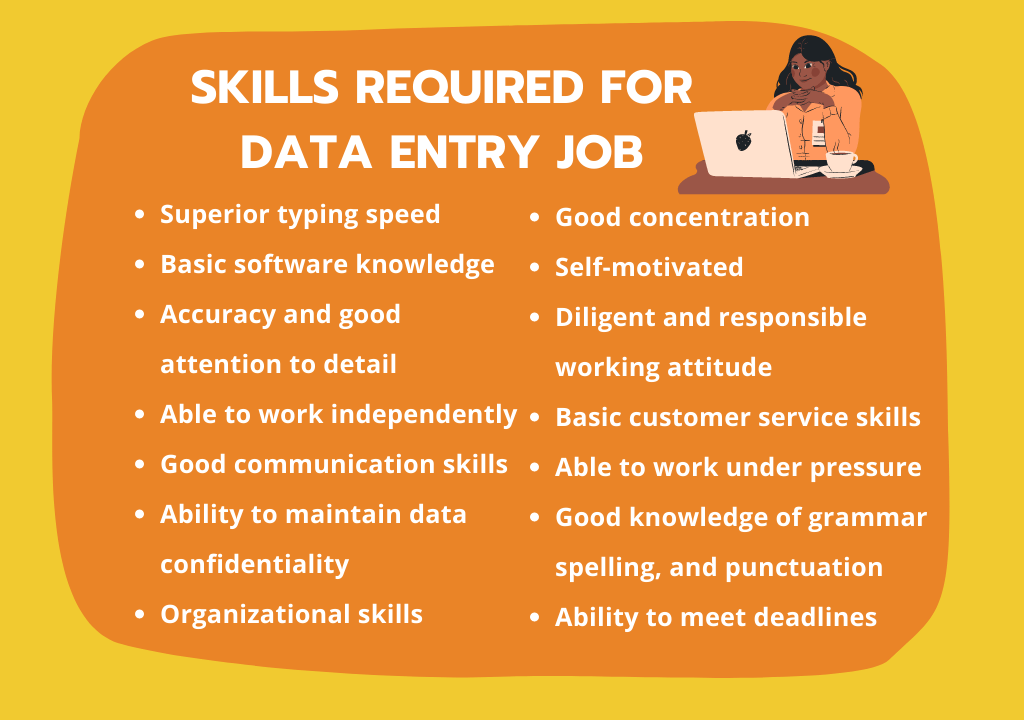 Example Answer:
I think communication skills are important in order to coordinate with your team members and client. Typing speed, as well as accuracy, are important to finish the work efficiently without any errors. Having basic computer knowledge can help in learning new techniques, and software applications needed to improve your skillset.
4) How comfortable are you working independently?
Often data entry jobs require you to spend long hours working on the project with minimal social interaction. So, recruiters ask this question to know whether you are up for the task or not.
Example Answer:
I am self-motivated and work well under pressure. I am well organized so I can finish the work within the specified time and handle deadlines. Working alone helps me to focus completely on the task at hand without any distractions.
5) Which software and applications are you familiar with?
One of the commonly asked interview questions for data entry jobs is about software and/ or applications.
Most data entry jobs rely heavily on computer programs or software to record and store the data. Therefore, the interviewer asks this question to see how confident you are in using the necessary applications.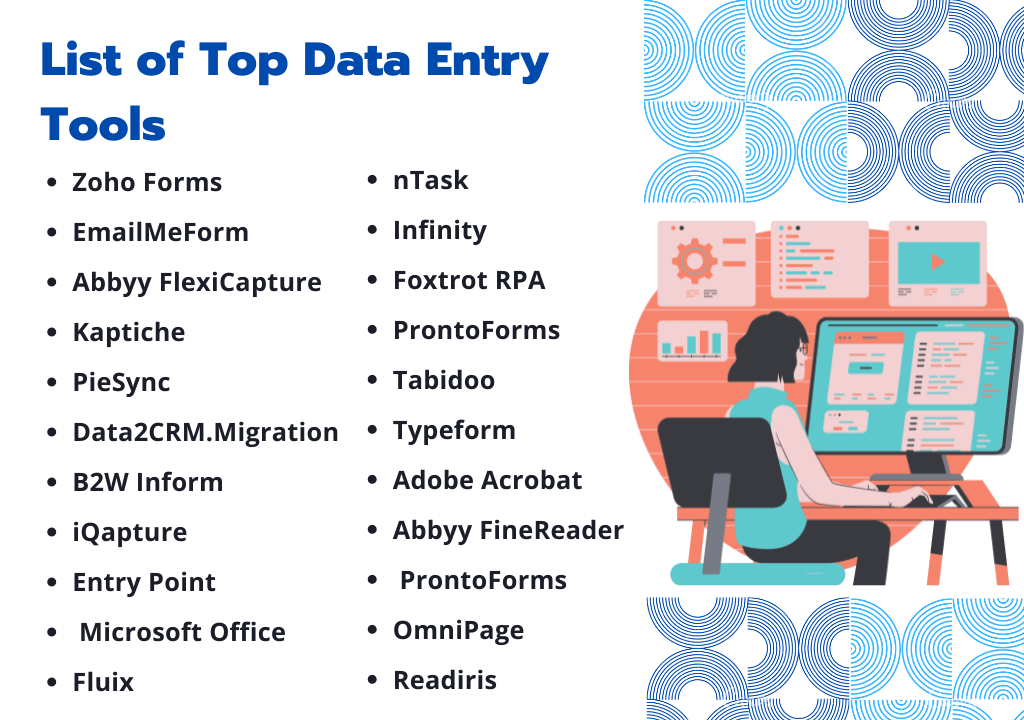 Example Answer:
I have advanced certification in Excel spreadsheets and I am familiar with Raiser's Edge NXT, Medrio, and QuickBooks. I am a fast learner and good with computers, so I am eager to master other software and application programs required for this job.
6) How do you maintain accuracy in your work?
Having a high typing speed is useless if your accuracy is bad. Being accurate is necessary in order to progress in the data entry field. 
Hiring managers prefer candidates with good accuracy as they can minimize errors which in turn increases productivity and reduces financial costs.
Example Answer:
Just like speed, accuracy is really important. After I compile and sort the data, I always double-check for any mistakes before saving it in the spreadsheet, management system, or the company's database.
7) What makes you a good fit for the data entry specialist job?
Here is your chance to let HR know that you are the best candidate for the job. Tell them anything that sets you apart from other job seekers. 
It can be that you have prior experience, advanced certifications, or excellent typing speed.
Tell them examples of situations where you displayed your commitment to accuracy, and how being attentive to details helped you in your previous job. Emphasize qualities like strong communication, time management, and organizational skills.
Example Answer:
My professional typing speed is 80WPM with 99% accuracy. I am trained in Apple and PC platforms. Also, have advanced certifications in Microsoft Suite.
When I was working at my previous company, I used to communicate the required tasks to my team members. I also use time management software to keep track of my work so that I never miss a deadline.
8) How do you stay focused while working on repetitive tasks?
Data entry includes doing repetitive work, so the recruiters want to know how you will stay focused while doing the tasks. Because the recorded data should not contain any errors, only then the business runs smoothly.
If there are any mistakes, the projects that use the data might produce faulty results. In the worst case, it might result in the loss of money.
Therefore, it is very important to concentrate and ensure accuracy in your work.
Example Answer:
I learned that I can pay attention to the work at hand when I follow a routine. If I find myself losing focus, then I take a small break and refresh myself. I also use the Headspace app which helps to stay mindful so that I can always concentrate on the job.
9) What type of data have you worked with?
If you have previous experience with data entry, there is a high chance of a hiring manager asking about the type of data you worked with.
The employer just wants to know if you operated any of the similar data types used by the company
It is not a requirement but is always seen as a plus.
Example Answer:
I worked as a data entry specialist in the XYZ industry. So I have experience dealing with image data and barcodes. I used to capture and collect information that needs to be processed by software.
10) Why should we hire you?
This question is asked by every hiring representative working in any industry.
Here you just need to highlight your strengths and tell them how you can add value to the organization. 
Inform them about your past job challenges and the way you handled them.
Example Answer:
I have strong knowledge of word processing, spreadsheet, and database. I am proficient in written English and communication skills.  
In my previous company, we used to collect image data and store it in the organization's software. But the data piled up and it became hard to retrieve the required information. So I suggested an automation system that categorizes each image so it is easy to retrieve.
Also, read Best Career Advice and Tips to Advance Your Job
Interesting Facts
Because of the widespread of the internet, most people started using videos to consume knowledge. Just to illustrate, inserting a video drives a 157% increase in a website's organic traffic that comes from search engines or SERPs.
According to the HedgeHogDigital blog, when a search engine result ends up displaying a video, organic traffic will increase on average by 150% and also raises the conversion rate by 80%.
Even on Instagram, more than 80% of users spend their time watching videos year after year.
Videos can be helpful when you are trying to learn new skills which will increase your chance of getting hired. 
Therefore, after reading this article, if you feel the need to study any new software related to data entry and understand its working, then book a course or watch relevant videos.
Wrapping Up,…
By reviewing the common data entry jobs questions and answers, you can get an idea of how to respond to hiring representatives. Now, prepare your own sample answers and rehearse them so that you do not hesitate and sound confident during the interview.
After getting ready to answer data entry interview questions, visit the HomesJobHub website and apply for remote jobs.
All you need to do is create an account and the AI system will inform you of the job postings matching your skills and requirements.