Customer service representatives manage client requests and product or service issues. Since you are one, you know that the client support agent represents the enterprises at the most basic level.
So, you need to present a qualifiable resume to get selected. Especially for work from jobs, you need a resume that showcases your reliable skills and ability to work independently.
Not sure how to do it? Just follow the simple steps, an example CV or resume, and the tips on how to create a remote customer service resume in this guide.
Also, read 11 Common Remote Job Interview Questions to Prepare for
How to Create a Remote Customer Service Resume?
Note that your job selection depends on what you include in your resume or CV. So, you should always be truthful. If you add fake information, then you may face some issues even after you get selected.
Remembering that, let's take a look at the way to write a remote customer service representative CV or resume.
1) Format of Resume
When HR sees your resume they should not feel confused or confounded. So, you need to maintain a format that is simple and easy to understand. 
Generally, recruiters do not have much time to examine all the resumes submitted by candidates. Hence, you need to arrange your resume in such a way that the hiring representative can instantly find your notable achievements.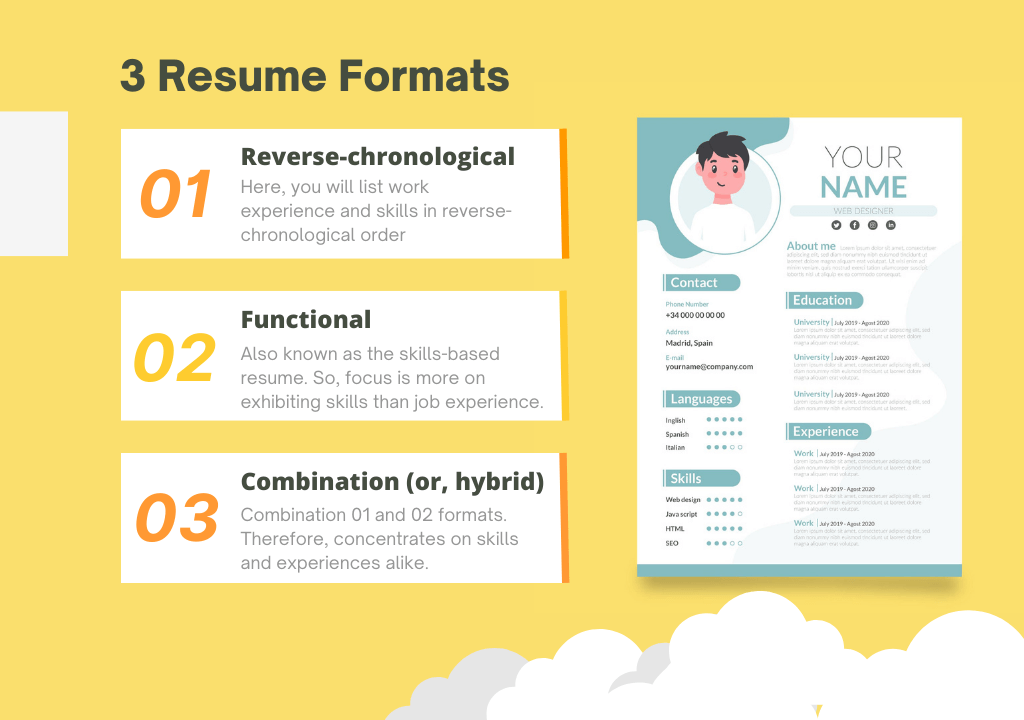 2) What to Include in the Resume
The main things that you need to add to any resume are –
Contact information,

Objective or summary,

Work experience,

Education, and

Skills.
But what to write in each of these sections? Let's find out. 
3) Display Your Contact Information Correctly
You will get to know whether you are selected or not for an interview through your contact information displayed on the remote customer service curriculum vitae or resume.
Any misspellings and wrong information make it impossible for HR to contact you. Thus check twice before sending it.
Enter the following details in the contact information section of your resume.
Full name,

Professional title – align this to the position you are applying for like customer service assistant.

Mobile phone number,

Email ID,

Address – there is no need to include a complete address, you can simply add your city and country.

Social media IDs or account links – this is optional.
4) Customer Service Resume Summary or Objective
One way to impress your recruiter is by writing a proper summary or objective. 
But what is the difference between a resume summary and an objective?
A summary is the synopsis of your most noteworthy skills and experiences, whereas a resume objective talks about your goals and aspirations. 
Note: Resume summary or objective should be 2-4 sentences only.
5) Make Your Experience Stand Out
The easiest and best way to let the hiring manager know that you are the right fit for the job is by attaching your past work experience.
Write the experience section as shown in the below example.
Customer Service Representative
ABC Solutions
07/2018 – 10/2022
Won "Employee of the Year" in 2021
Answered inbound calls and provided the needed information or routed calls to appropriate departments.
Maintained up-to-date knowledge of products and services offered by the organization to deliver accurate information to customers.
Exhibit how valuable you were to your previous company and talk about received recognitions, your responsibilities, and how you fulfilled them.
6) If You Don't Have Experience
Maybe you are a graduate or student who does not have any work experience or have previous experience but it is not related to customer service, then all you need to do is focus on your skills and willingness to learn.
Relay to them that you have what it takes to do the job by showcasing your skills through school/ college projects and related job experience.
For example, you worked as a cashier. Then you can write about your crossover skills and experience like you are friendly, operated POS, and dealt with consumer concerns.
7) List Your Education Correctly
Here, you simply need to list your education with the following details.
Type of degree and major,

University/ College/ School name,

Studied years,

GPA/ percentage and anything else you want to add.
In case you are still pursuing your degree, then just mention your up-to-date education.
For example –
High School Diploma
JKL High School, New York
Graduated 2019
8) Skills of a Remote Customer Service Agent
Only include the skills that match the posted job description. You cannot add every skill you own as the resume has to fit on one page. And also, the recruiter won't be interested in unnecessary skills.
Usually, for a remote customer service professional job, you can include the following skills.
Computer Literacy,

Negotiation,

Active Listening,

Communication,

Time management,

Decision Making,

Conflict Resolution,

Patience,

Empathy,

Adaptability,

Social skills, and 

Customer Relationship Management.
9) Other Things You Can Include
Although you have added all the necessary details to your resume, you can include other things to win the interview. For instance –
Awards/ Achievements and Certifications –

Create a separate section for it and add your accomplishments like any prestigious awards you won in college or school and at a former company.

Also, include course certifications from Upskill, Coursera, etc.
Languages –

Even if the job you are applying for does not require it, you can add a list of known languages because being bilingual is impressive.

Remember to rank them by proficiency – native, beginner, conservative/ fluent, proficient.
Interests and Hobbies –

Your interests may have nothing to do with the job profile, but it helps HR to perceive you beyond your qualification and know who you really are.
Customer Service Representative Resume Example
Here is an example of a customer support agent resume with all the necessary sections.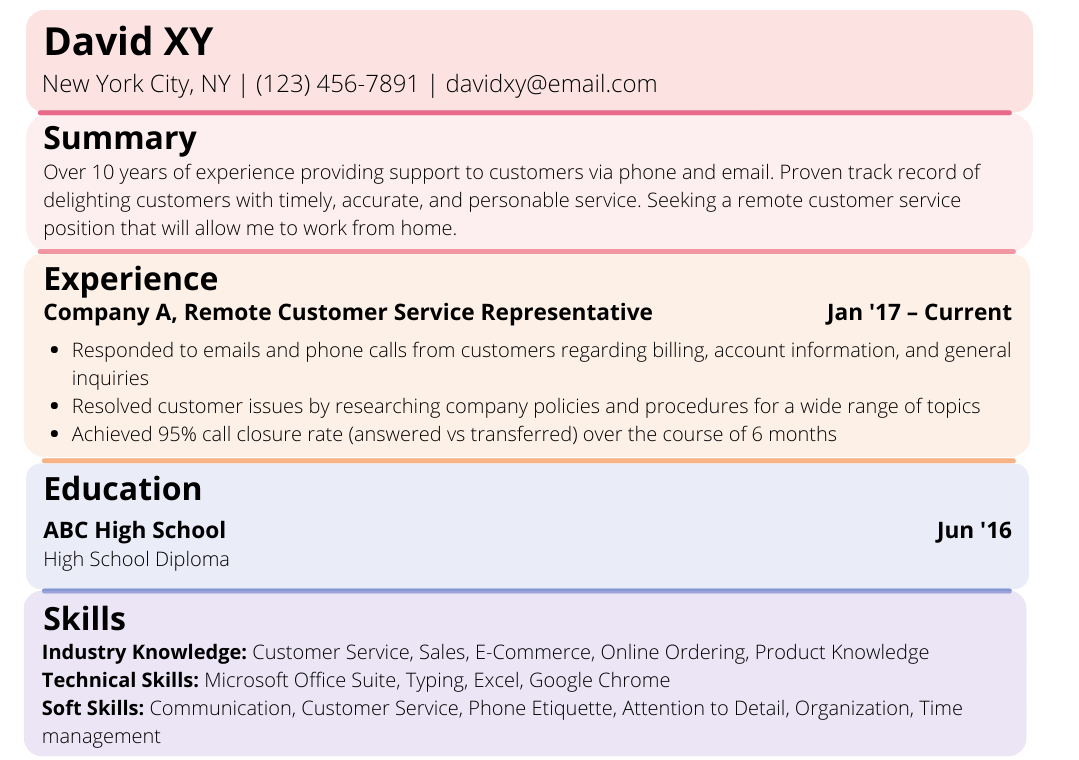 Also, read Must-Know Career Advice and Tips to Advance Your Job
Tips to Write a Remote Customer Service Representative Resume
1) Use a Template
Now that you think you got all the basics, are you thinking of getting ready to type in your resume?
But it could be hard to start from scratch as you need to follow a particular format. In order to make it look professional, you need to use certain tools. 
However, there is no need to worry because there are various templates available on the internet. You just need to tailor them to match your profile.
2) Incorporate Action Words
One way to highlight your resume is to use power words like the following –
Determined,

Initiated,

Proved,

Formulated,

Clarified, and so on.
3) Include a Cover Letter With Your Resume
A resume talks about your profile but with a cover letter, you can express who you are and why you want this job.
The structure of your cover letter needs to be in the following format.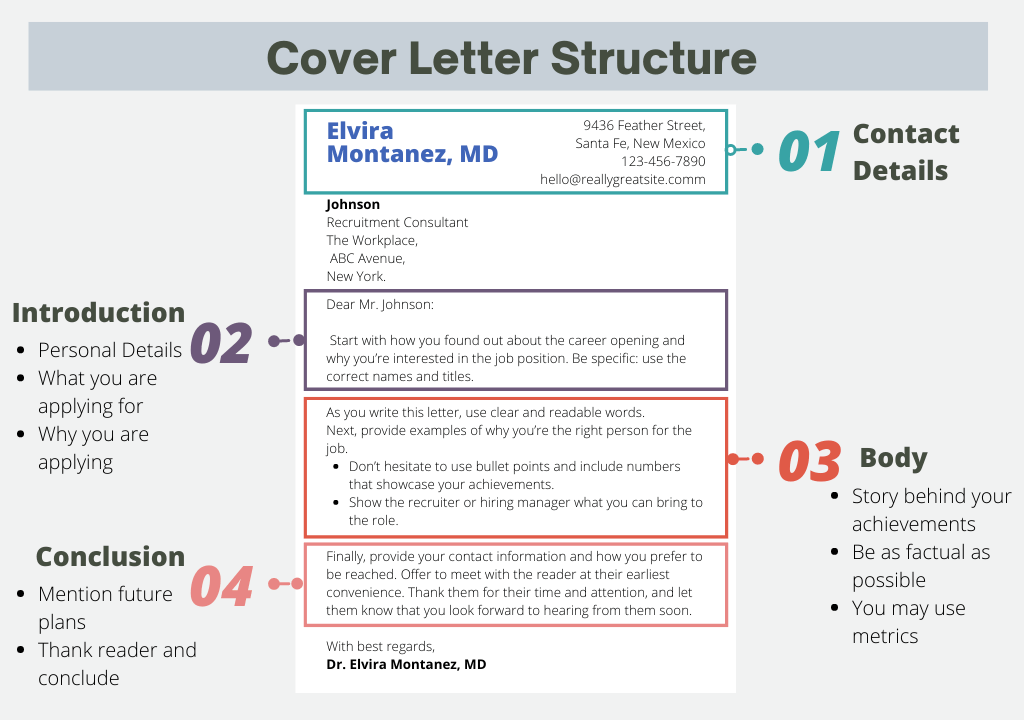 Remember to read your draft out loud before sending it in order to spot errors and wordy sentences. You may also ask your friend or family member to review your cover letter.
Also, read How to Write Cold Email For a Job
4) Relevant Social Media Information
Just because you have the option to add social media information, do not add links to irrelevant accounts like Facebook. Only add IDs or links to sites such as LinkedIn, or blogs that add more value to your resume.
Also, make sure your account dashboard is clean and does not contain posts related to racism, religion, politics, etc. Remove anything that might not create a good impression.
5) Always Be Honest
The interviewers mostly ask questions based on your resume. 
For instance, they may ask you to talk about a scenario where you have shown the skill listed on your resume. 
Therefore, even for the skills, you need to add only the ones you possess.
Also, read – Tips on How to Get Better At Job Interviews
Wrapping Up!
Every HR spends only a few seconds on each resume. So, format and build your resume by following the above instructions.
Always be honest and review your remote customer service resume to make sure there are no silly mistakes before sending it.
After creating your resume, apply for work-from-home jobs in HomeJobsHub. You can get a reliable job without much effort as it uses an AI-powered system that informs you whenever a recruiter posts a job notification.
So Signup here and good luck with your job search!