The demand for work-from-home jobs is at an all-time high in the United States. Yet, many people struggle to find a proper work-at-home job. Lack of knowledge, preconceived notions, and myths regarding virtual jobs deter many from pursuing the same. 
But, time could not be any more favorable than now to find a well-paid work-from-home gig and enjoy making money from home. Thanks to the pandemic. 
So, if you're interested in working from home but you're clueless about which roles to look for, this read is for you.
Nine Best Work From Home Jobs To Help You Begin a New Career Today
If you've been thinking about trying work from home jobs, here are nine legitimate jobs you can start today:
1. Virtual Assistant
If you have strong organizational and communication skills and like to multitask, a job as a virtual assistant might be a good fit for you. 
As a virtual assistant, you help your employer in:
Setting up meetings.

Making travel arrangements.

Providing research.

Help them with data entry work. 

Email support and more to make their life easier.
You can work anywhere in the world, and it's an excellent opportunity for people who are just starting or are looking for a career change. If you wonder about salary benefits, you can easily make $10- $15 per hour in this job.
2. Virtual customer support
Virtual customer service jobs are among the most famous work-at-home jobs. If you are good with people, enjoy helping others, and have a friendly demeanor, then a customer service position is ideal for you.
In this role, you will typically work with a company to help its customers succeed with its products and services. This role often includes connecting to them via phone or email and helping them figure out what they need. The pay scale of a customer service representative usually starts from $9 and can go up to $19 an hour.
3. Transcriptionist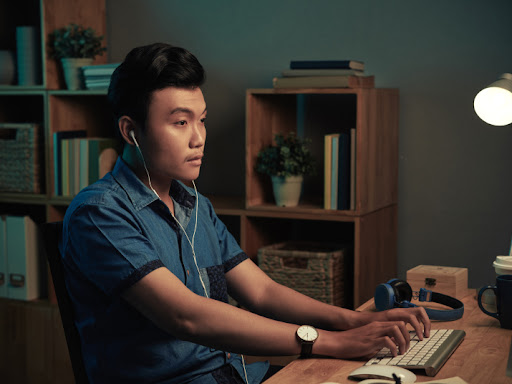 Transcribing is a process in which you listen to recordings and convert them into written texts. If you can type fast and have decent grammar skills, you can apply and get a job as a transcriptionist.
If you're wondering what kind of audio files you have to listen to, they can be anything from recordings of a board meeting to interviews, lectures to a book, depending on your employer. 
But, the best part is you can make up to $59,243 a year as a transcriber.
4. Online Teaching
Online teaching is a flexible way to make some extra cash, especially if you are a subject matter expert in the field. 
As an online teacher, you interact with students of all ages worldwide. Moreover, you could set your schedule and choose when exactly your teaching hours are. 
You can even apply for a full-time teaching job in some reputed companies or supplement your income with shorter, freelance teaching gigs. And as a teacher, you can earn around $30,000- $ 40,000 per year.
5. Freelance Writing
Are you looking to work on projects that are both challenging and fun? Then, a freelance content writer is a job you are waiting for. Writing allows you to be a part of critical business processes and aspects. 
You could earn money by writing blogs, articles, and website content for enterprises and can easily make $30-$500 per article, depending upon the employer. 
Freelance writing also involves connecting with readers by writing engaging content for business blogs and online magazines. If you have some excellent language skills up your sleeves and are interested in writing, a freelance writer could be your career option. A resume, cover letter, and portfolio are all you need to get started with it.
6. Virtual Graphic Designer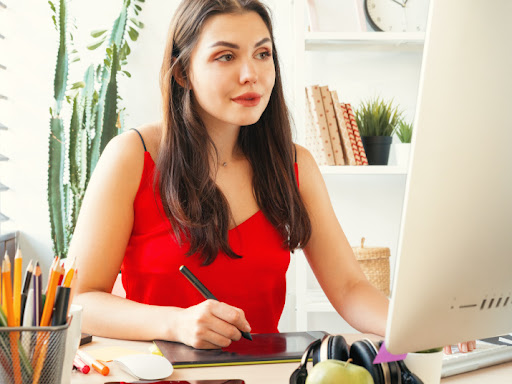 If you have a knack for art, design, and creativity, then you could be the perfect fit for a graphic designer's role. As a graphic designer, you will create and design logos, brochures, advertisements, books, magazines, packages, and much more. 
Graphic designers are in demand globally, so there are plenty of jobs available that you can apply for right now. The salary for graphic designers starts from $45,000/year and can go up depending upon your skills and experience.
7. Social Media Manager
The social media manager is responsible for managing the social media assets of a company. They ensure the company's social media accounts are active and constantly updated. They are also responsible for interacting with customers, sharing content, and providing customer service to social media users.
Social media managers also make sure that the company is interacting with its target audience and that there is a persistent endeavor for growth in their business. The average salary of a social media manager is $15-$120/hour.
8.  A Chef
If baking is your love, you could start a home-based cake decorating business or create a cooking website. As a baker, you can deliver customized cakes to homeowners and earn good money. In addition, you can take orders online through your website and earn up to $20 an hour. 
For instance, you could start a cooking blog and get paid for your recipes and easy-to-cook tips. Of course, if you don't own a camera but have a good phone camera, that would suffice. Moreover, you can also start by sharing your local delicacies on sites that pay you when people use your recipes.
9. QA tester
If you're a technology geek and a language lover, this job is perfect for you. As a QA (Quality Analyst) tester, you're responsible for making sure the product you're working on is free of bugs and glitches and works as advertised. 
For instance, you could be required to read the product's instructions, set up a testing environment, perform a series of tests, and ensure the product functions properly. You can easily earn $15-$20 per test as a tester.
End Your Job Struggles by Connecting With HomeJobsHub
At HomeJobsHub, we are a team of dedicated professionals committed to connecting the right people with the right virtual customer support jobs. HomeJobsHub is also a platform where companies can get highly verified candidates for their organizations.
All you need to do is sign up and fill out the form to get your dream work-at-home job. Our team is available at 214-997-6228 to help you at every step.