Are you tired of commuting to work every day and wish to work from the comfort of your home? If yes, then you are not alone. With the rise of remote work, more and more employees are seeking ways to work from home.
While 37% of technology professionals are willing to accept a 10% pay cut if they could work remotely, 69% of millennials are willing to trade their employee benefits for flexible workspace.

As per research, 3 times more remote jobs are available now compared to 2020.
However, asking your boss to work from home can be intimidating, especially if this is your first time doing it. In this article, we will discuss how to ask to work remotely and provide you with steps and necessary tips to make the process easier.
Table of Contents:
How to Request Your Boss to Work At Home
Follow the below steps on how to ask your boss to work from home to maximize the chances of your approval.
1) Evaluate Your Job
Before you ask your boss to let you work remotely, it is important to evaluate your job responsibilities and assess whether your work can be done from home. 
In case your job involves a lot of face-to-face interactions or requires you to be physically present in the office, then working from home might not be a viable option. However, if your work can be done remotely, then move on to the next step.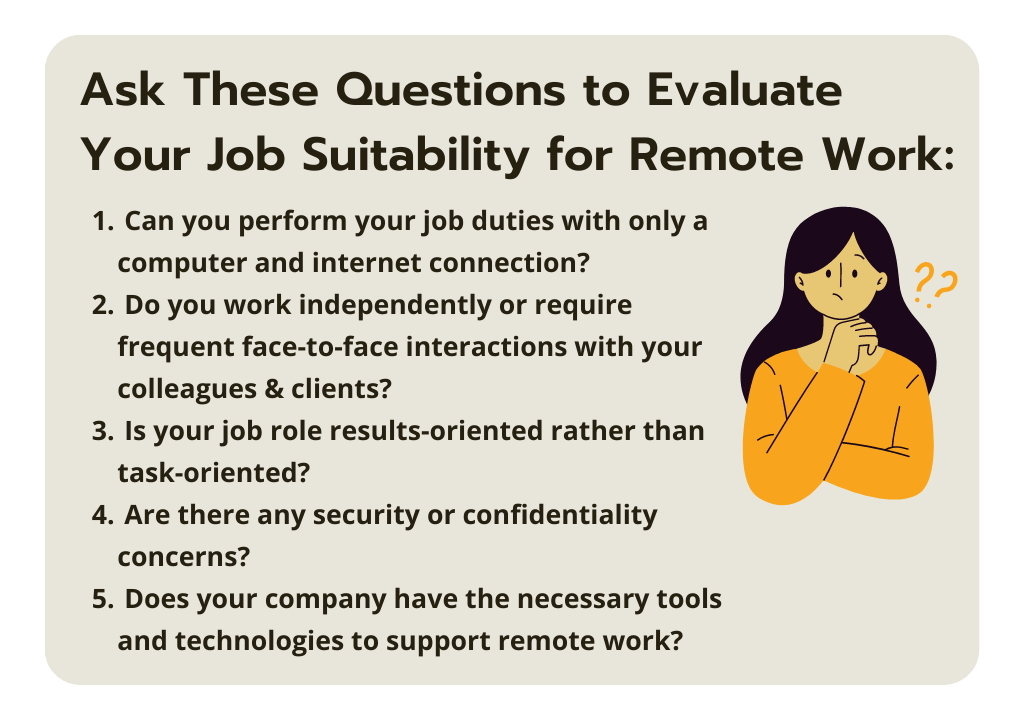 2) Research Your Company Policy
Look into your company's policy and review the terms and conditions for working remotely and procedures for requesting to work from home. If remote work is not currently available for your position but is available for other employees, you can use this as evidence to support your request.
When there is no official policy on remote work, you might need to convince your boss to consider your request. To do so, research other companies in your industry that offer work-from-home options. This research will help you build a stronger case for your request.
3) Prepare a Proposal
Prepare a proposal explaining why working remotely is the best option for you and the company. Highlight the benefits or reasons to work from home, such as increased productivity, less stress, and a better work-life balance. Also, talk about any past experiences you had with remote work and how successful they were.
Explain how remote work will not affect the quality of your work and how you will stay connected with your team. Additionally, mention the tools and technologies you will use to stay connected with your team.
4) Be Clear About Your Needs
When asking boss to work from home, be specific about your needs. Decide if you want to work from home permanently or just a few days a week. Consider if there are particular days of the week that are better for you to work remotely. 
It is crucial to have a clear plan in place before approaching your boss.
5) Arrange a Meeting & Address Your Boss's Concerns
Schedule a meeting with your supervisor to talk about your proposal. Be prepared to answer any questions your boss may have about your proposal. For example, concerns about communication, collaboration, or productivity. 
It is important to address these concerns and provide solutions. For instance, you can suggest video conferencing tools for communication and collaboration and set up clear communication protocols. For productivity, offer to provide regular check-ins and progress reports to ensure transparency and accountability.
6) Be Flexible & Start Small
When your boss is hesitant about allowing you to work remotely, be open to compromise. Consider asking for a trial period or a hybrid model, where you work at home 1 or 2 days a week. This will allow your boss to see how remote work can benefit the company without fully committing to it.
In case your boss has specific requirements or unease about remote work, be prepared to work together to find a solution that works for both of you.
7) Follow Up
After you make the request for working remotely, make sure to follow up with your boss. See if they have any questions or concerns, and provide any additional information they may need. This will show your boss that you are serious about remote work and committed to making it work for the company.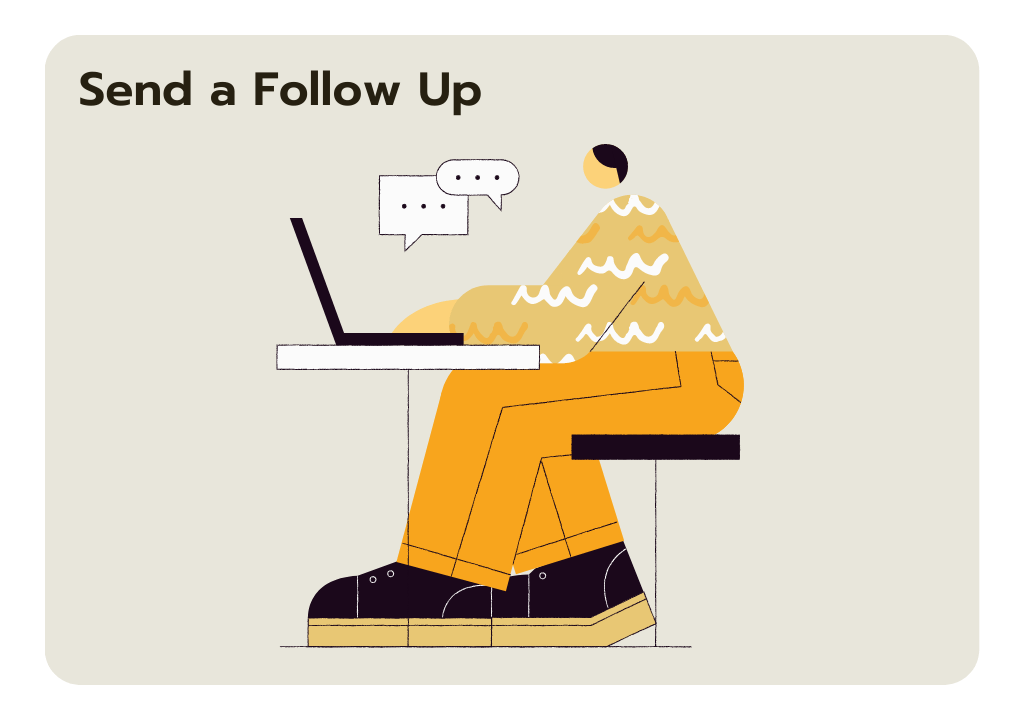 Example of a Follow Up:
Dear [Manager's Name], 
I wanted to follow up with you regarding my request to work remotely. I understand that this is a significant change, and I wanted to reiterate my commitment to making it work for both myself and the company. As we discussed, I have a strong proposal outlining the benefits of remote work for both myself and the team, and I would be happy to answer any additional questions you may have. 
Please let me know if there is any further information or documentation that you need from me to make the decision. Thank you for your consideration and will look forward to hearing back from you soon. 
Best regards, 
[Your Name]
Also, read – 15 Best Tips and Advice to Advance Your Career
Things to Keep in Mind While Asking to Work Remotely
Here are some points you need to keep in mind when you are requesting teleworking.
Asking for Permanent Remote Work:
If you are interested in working remotely on a permanent basis, you will need to make a strong case. In addition to the steps mentioned above, you may also want to consider the following:
Company benefits:

Highlight any cost savings for the company, such as reduced office space and equipment costs.

Add statistics to back up your statement. For example, you can add the stat – "According to Global Workplace Analytics, if a typical organization allows its employees to work from home half of the time, it could save $11,000 per year, on average", to emphasize the company's cost savings.
Your ability:

Emphasize your ability to be productive and meet deadlines while working remotely. 

Your benefits:

Mention the positive impact on your work-life balance and overall well-being.
Remember, the key to successfully asking to work from home permanently is to have a well-thought-out plan and be able to clearly communicate the benefits to the company.
Requesting to Work At Home For One Day:
In case you are wondering how to ask to work from home one day a week or on a trial basis, you can follow the steps listed above with a few additional considerations:  
Choosing the day:

Choose a day that is not critical to your team's productivity or workflow. 

Tools & Equipment:

Ensure that you have the necessary equipment and tools to work from home. 

Be responsive:

Be available and responsive to your team throughout the day.
Also, read – 10 Clear Signs That You Need to Look For a New Job
Tips on How to Request Work From Home
Be prepared:

As mentioned above, do your research about remote work and be prepared with your proposal that outlines how it will work. In case you know someone who already made such a request and successfully transitioned to teleworking, inquire about their experience and ask for any advice.

Reiterate your commitment:

Emphasize your commitment to your job and the company. Let your employer know that you will continue to work hard and meet deadlines, regardless of your work location.

Be professional:

When making your case for remote work, it is important to approach the topic in a professional and respectful manner. Avoid making any demands or ultimatums.

Focus on results:

Focus on how it will benefit the company and help you achieve your goals. For example, you could highlight how remote work will allow you to focus on key projects or meet deadlines more effectively.

Keep communication open:

Communication is key, especially when teleworking. So, make sure to keep your boss and team members updated on your progress, availability, and any challenges you may be facing.

Have a dedicated workspace:

Ensure you have a dedicated workspace with the necessary equipment and technology. Your workspace should be a quiet, distraction-free zone, and also a well-lit, ventilated one. Set up a comfortable chair and a desk or table that provides ample space for your computer and any other equipment you need.

Demonstrate your value:

If you are given an opportunity to work remotely, be sure to demonstrate your value by consistently meeting or exceeding your goals and deadlines.
Also, read – 10 Best Remote Work Locations
Interesting Stats
The United Kingdom is experiencing a 13% annual growth in flexible office space. A Harvard Business Review report found that 71% of executives consider employee engagement essential for a company's success. In line with this, Gallup's State of the Global Workplace 2017 report reveals the following stats –
Based on another Gallup survey, 87% of people are disengaged at work, making it the highest disengagement rate ever recorded. Furthermore, their State of the American Manager: Analytics and Advice for Leaders report shows that managers are responsible for 70% of the variance in employee engagement rates across business units.
Finally, a Citrix-One-Poll study of 10,000 respondents found that nearly 70%, precisely, 69% of global employees report that they are equally or more productive when working from home compared to working in the office. Additionally, 77% of U.S. workers report working the same or more hours than before when working remotely.
Ready to Turn Remote Working Into Reality?
How to ask to work remotely permanently or for a certain period of time? You can simply follow the steps and tips mentioned above to increase your chances of success with confidence. 
It is important to approach the topic in a professional and respectful manner, focusing on the benefits of remote work for both yourself and the company.
In case you are interested in applying for remote jobs instead, visit HomeJobsHub. This remote jobs portal lets you earn a living with their reliable and efficient partners. Sign up and their AI will automatically notify you whenever a job matching your profile is posted. 
Don't hesitate to take the first step and turn your remote working dreams into reality!